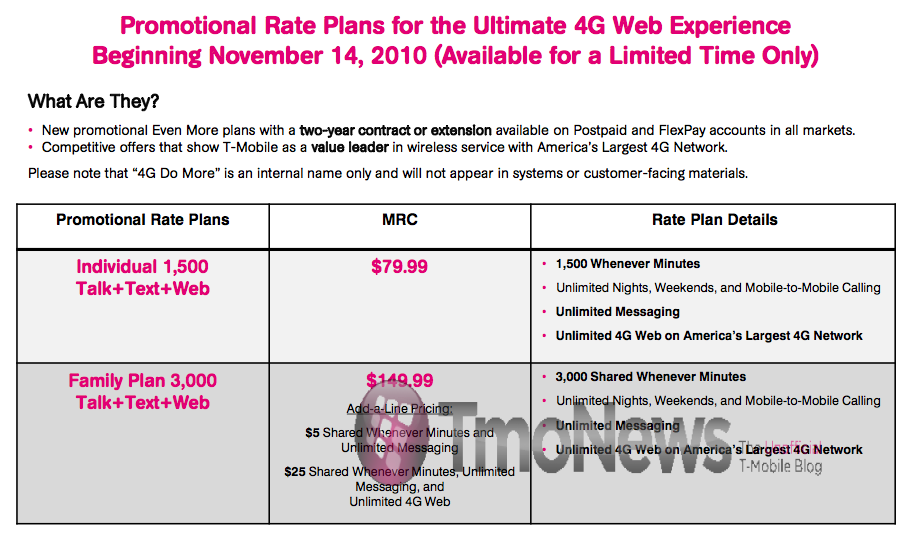 Update: There seems to be a bit of confusion regarding the Even More Plus plans and I thought it would be nice to try and clarify. No official word from T-Mobile indicates these plans are gone. Both customer service and retail store reps are both able to offer them to walk in or calling customers. However, the removal of them from the website and even now at 8:30PM EST the EM+ plans are still unavailable on the T-Mobile website. Amazon Wireless, LetsTalk and Wirefly also don't have the option for EM+ plans. We aren't saying and never did say they were completely gone, that was an interpretation based on current information and also from what we have heard might be happening. T-Mobile themselves claim its a website glitch and we have to wonder, why at this hour the website remains unfixed? Fifty percent of the company's offerings are "unavailable" due to a website glitch. It is within that that our interest peaked and caused the extra portion of this article this morning. We'll post when we know more and hopefully by morning the plans will be back, but until then, we are just very unsure as to what is going on.
While the new promotional rate plans are certainly worthy of a reminder post today, the news that might peak more interest is the sudden removal of the Even More Plus plans from the T-Mobile website. While our ninjas had started dropping hints, without any "physical" evidence it was hard to understand just why exactly T-Mobile would drop them. We can't say anything for certain as we haven't heard anything officially from T-Mobile but with the launch of two new promotional plans, it does seem like a perfect day to quietly remove them. In line with the reminders is also the addition of the new tethering plan for $14.99, 200MB plan for $10/$15 depending on current rate plan the new 4G unlimited plan. Hit the images below for all the goods, reminders and details you could ever wish for!
While we work fast to see if this is a permanent move we've included a few extra ninja shots to help showcase the T-Mobile savings against the competition and a little guideline for how much data basic tasks will consume. Further supporting the removal of the Even More Plus plans is their absence from these docs as they might offer the better comparison against the competition based on their lower price points. Instead, the comparison includes Even More pricing, specifically the promotional plans which continues to point to a quiet Even More Plus removal.
Any questions?