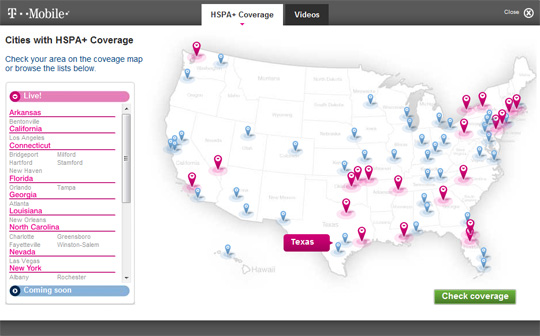 It would be easy to think that yesterdays launch announcement of the new myTouch device overshadowed the additional launch of 16 more HSPA+ cities. So we thought we'd take a little time this morning to remind everyone exactly what cities went "live" yesterday for your HSPA+ browsing speed pleasure.
With its latest expansion, T-Mobile's HSPA+ footprint now includes Biloxi and Gulfport, Miss.; Denver, Colo.; Huntsville, Ala.; Knoxville, Tenn.; Myrtle Beach, S.C.; Norfolk, Va.; Omaha, Neb.; Phoenix and Tucson, Ariz.; Salt Lake City, Utah; San Francisco, San Jose, Oakland and Sacramento, Calif.; and West Palm Beach, Fla. T-Mobile expects to reach 100 major metropolitan areas and 200 million people in 2010.
I like the sound of 100 major metro areas and 200 million people covered in 2010, that's just exciting! And yes, I know the picture above isn't up to date, but I like the picture mmmmkay?