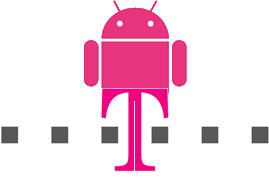 The day has come, the day of Android.  Google has risen victorious, proving the majority of analysts wrong.  Android has evolved; changing with every savory dessert and adding features that are not only ground breaking, but have allowed them to compete with the old industry leaders.  Android, as we know and love it now, is not the same beast that we encountered in the days of the G1.  It is smoother, some may say polished, and can do anything you ask it.  Since those early days, though, our favorite carrier has gone stale, offering up many conservative Android phones, none of which push the envelope or offer any new and amazing features and specs.  Before we continue, though, we must go through the story.  Buckle up, this is a long one.
At first, there was the G1.  T-Mobile, it would seem, grabbed up the first Android phone and was destined for greatness.  No one could have imagined its future, but T-Mobile thought it would see some fame.  The hardware was, to be honest, undesirable and ugly, but the software offered promise.  Those of us here (yes, you me and the like) knew it to be something different though.  Did we know that it would take off, certainly not, but we embraced the rough hardware and software.  We were all Beta testers, and we loved it.
Then, a change.  Keyboards went out of style.  Android phone after Android phone launched, no keyboard in sight.  This was the change though, all because Android now offered an on screen keyboard.  And then, a second carrier.  Further support for the startup OS from the massive corporation.  All Android phones in this segment were lack luster, though.  It may have looked different, but they all behaved and offered the same thing.
The Second Coming
DROID.  If you didn't automatically substitute a robotic voice for your own (even in your head), then you aren't in the right place.  Verizon took hold (see older editorial) of the now favorite OS in America, or at least the most sold.  Verizon is an entirely different beast than T-mobile and Sprint.  Verizon's customer base, and advertising fund, makes T-Mobile look like a pebble.  I'm not necessarily saying bigger is better, but Verizon changed the game, for the better in the long run.  In a little less than a year, Verizon has blitzed all competition with a massive advertising campaign.  Droid became a household name that everyone, and their grandmother, knew and talked about.
The original DROID was different from the rest.  It was, after all, a bare knuckle bucket of does.  If you ask this editor, the DROID is second only to the Nexus One when it comes to Android Phones.  The new Android phones are great, with their speedy snapdragon and hummingbird processors, but the Droid and the Nexus One are the most solid.  The mix of great hardware and vanilla Android is a match made in heaven, but that trend doesn't seem to be sticking around for long.  Since then, Droid has expanded to many devices, all with their custom UIs and Snapdragon processors.  They make up the majority of Android sales (purely speculation) and they have made Android as popular as it is now.
Note: The Nexus One was released shortly after the DROID, but maybe you can recall my opinion on that subject.  Summary – it could have been great, but someone dropped the ball.
AT&T also landed some Android phones, but they are second rate, making even the Cliq series and the Behold 2 look desirable.
To Infinity, and Beyond (I think some credit needs to be given to Pixar, Toy Story, or someone whenever you say this)
Now, we live in the superphone era, and Samsung decided it was time to step up.  They introduced the Galaxy S series, and they have certainly changed the game.  Giving customers the ability to get the same phone (with a slight exception for the Keyboard carrying Epic 4G) on any of the major 4 carriers.  Their success will come from advertising, and they have done a pretty good job spreading the word.  It isn't DROID good, but attacking the world's largest Social site is a good start.
The Vibrant is different from other phones.  Its availability makes it impossible to call a flagship phone.  Unfortunately, it's the closest thing that T-Mobile has to a flagship phone at this time.  I think T-Mobile realized this, and that is why the Vibrant stands out from the rest with all of its add ons and additional advertising.  T-Mobile, though, can not keep the Vibrant as it's sole superphone, it will never last.  That is why T-Mobile needs to, and is, making a major play in the Android game.
The Return
This G2 is significant.  It could be the game changer that T-Mobile needs to keep up.  We shouldn't expect a major leap, we certainly aren't tackling Verizon any time soon, but a decent sized push is indeed needed.  I can ask for advertising as much as I want, but it won't happen, and maybe that's a good thing.  Our money is better spent elsewhere, dishing out HSPA+ to the masses and reinforcing coverage in spotty reception areas.  The first true HSPA+ phone needs a welcoming party though.  For a device with so much potential, with speeds surpassing Sprint's 4G network, this is a big deal.
Let's return to that point, T-Mobile's first HSPA+ phone.  This is a big deal.  T-Mobile is sticking with HSPA+ for a while, like it or not.  They can afford to do so since LTE isn't that much better at this time.  This was they can stay ahead of the curve, when it comes to speeds at least, and then consider LTE, or 4G, down the road.  HSPA+ is, as we have seen, the fastest network on the market in the United States right now.  Sprint's 4G lags behind, but Verizon's LTE network will surely put up a fight when it comes.  This is where T-Mobile needs to step it up.  Keep HSPA+ running, and running fast since there is still some speed ready to be squeezed out.
On top of that, T-Mobile can not mess up the launch of the G2.  People were excited when the G1 launched, there were lines, parties and everything.  The same, or something similar needs to happen.  This phone is important to the T-Mobile crowd, and hopefully, other customers looking to switch.  There needs to be advertisement.  There needs to be anticipation.  Advertisement and anticipation proved to be effective with the Motorola DROID and the HTC EVO 4G.  The same thing needs to happen with the G2.
The Contenders
Speaking of the EVO 4G, the G2 does not have an easy fight.  When the original G1 burst onto the scene it was alone, the only Android phone that money could buy.  Now the scene has changed.  Like I said, it is the age of Android.  Android phones are everywhere and it seems like a new one is leaked every week.  It has also been a crazy year, or really summer, for Smartphones.  Just think about the flagship phones that can be purchased right now.  You have anything in the DROID lineup (Droid 2, Droid X, Droid Inredible), the EVO 4G, all the Galaxy S phones, anything made by Blackberry, and of course the iPhone.  If anyone is looking for a smartphone, they can take their pick based off their needs, or what is considered cool at that time.
How will the G2 stand out?  That's a good question.  It will be considered, for the time being, the best phone that you can buy on T-Mobile.  Even still, that only makes it special for T-Mobile.  You can go out and buy the best (Android) phone on any carrier and there wouldn't be much difference right now.  The job here is to make it different.  A great keyboard, design, screen and slightly better specs make it different, but the majority of consumers won't even notice.  It is up to T-Mobile to make it different.  T-Mobile needs to make this the best thing since sliced bread, and only focus on this phone for a while.  Advertise it, give it away (send some our way), I don't care, T-Mobile's world is this phone, right now.  So maybe I went a little off topic, but the point is that anyone can pick a great phone on any carrier, T-Mobile's job is to make the G2 seem different.
The G2 looks to be an amazing phone.  While it may not tout a front facing camera, the phone as a whole will be amazing.  Resembling the HTC Desire with a slide out QWERTY keyboard, this phone will definitely appeal to Android die hards and consumers alike.  This phone, followed by the release of the MyTouch 3G HD (the second HSPA+ handset), will certainly pick up T-Mobile's slack when it comes to Android.  With two amazing, envelope pushing, top of the line handsets heading our way, T-Mobile's relationship with Android will be restored (and the theater will cry at the predictable story book ending).  Now, who do I talk to about keeping Android stock, without any custom UIs?
Feel free to leave your thoughts in the comments!