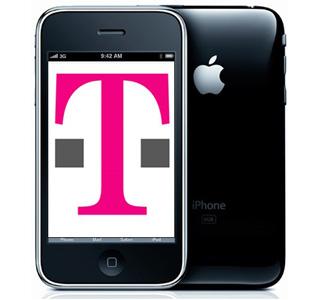 Cult of Mac, certainly a trusty and prominent Mac related website is reporting that T-Mobile is in the "advanced stage" of talks with Apple to bring the iPhone to T-Mobile. This "highly placed source" pegs the chances of a T-Mobile iPhone at "80 percent likely that the iPhone will be coming to T-Mobile in Q3." Those are some damn nice odds in the favor of T-Mobile. Of course this, like any iPhone rumor is to be taken only with the strictest grains of salt.
It's likely that many of you may scoff at the idea of an iPhone T-Mobile iPhone, being a happy Android house right now. There is little doubt however, as to what it would do to for T-Mobile itself. AT&T has seen such success with the iPhone from a subscriber standpoint that T-Mobile would be foolish to pass up such a premiere device and a golden opportunity. The iPhone, love it or hate it is a golden goose right now and would be an immediate boost to T-Mobile and an opportunity to "steal" away unhappy AT&T customers by the truckload with lower prices and a solid network.
Obviously, technology favors T-Mobile as we've seen with the recent Wired report claiming that Apple gave up on a Verizon iPhone idea because they would have to rebuild the entire device. With T-Mobile and AT&T running the exact same technology (did anyone really need me to write that?) it would be a much smoother experience for Apple to put the iPhone in the hands of Magenta.
It's impossible to say whether rumors like this have any actual truth behind them as iPhone rumors are a dime a dozen. Not to mention that anything regarding this matter is one of the most easy to claim and hardest to prove in the wireless game. Getting the scoop on Apple's next move is like the golden ticket in the tech blog world and while we have complete faith in Cult of Mac and their confidence in their source, we can't discount disinformation or simply bad information from playing a role here. That being said, we're definitely all for this coming to fruition, if for no other reason than because of what it could do for T-Mobile and their future prospects.