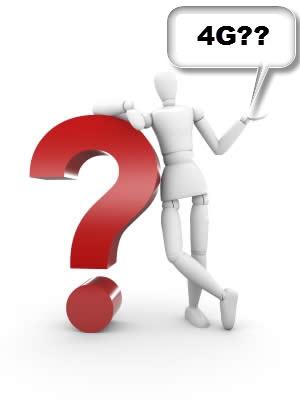 If you have been following my tweets (TmoNews_Andrew, and while you are at it follow TmoNews and TmoNews_Kick13) or T-Mobile's, then you have probably seen some talk about 4G today.  Wait a second… 4G?  Since when did we get a 4G network.  That is a good question, but don't be confused.  T-Mobile is simply saying that their new HSPA+ network is reaching 4G speeds.  You know, the 4G speeds that Sprint is touting.  The difference is that we get these speeds on our smartphones without buying a brand new headset and paying extra per month (take that Evo 4G).  So, let's be clear, the initial tweet by T-Mobile USA, and follow up tweet, are referring to 4G speeds and not a 4G network..  From here on out, let's just keep in mind that 4 is not necessarily bigger faster than 3.5.   Also, the super fast HSPA+ network is now available in Upstate New York (Albany, Buffalo, Rochester and Syracuse), Connecticut (Hartford, New Haven, Milford and Stamford), Providence R.I., Memphis, Las Vegas, Philadelphia, New York, New Jersey and suburban Washington DC. Magenta states that their HSPA+ network will expand into Washington, D.C., and Boston "in the coming weeks." So what do you think of these 4G speeds, eh (*wink, wink)? Leave your thoughts in the comments!
UPDATE: Official Press Release Below
Press Release
4G Speeds From T-Mobile Now Broadly Available in the Northeastern U.S. and Other Major Cities
T-Mobile Deepens, Expands Mobile Broadband Network to More Places on More Leading Devices
BELLEVUE, Wash. – May 24, 2010 – T-Mobile USA, Inc. announced today the continued expansion and customer availability of its HSPA+ super-fast mobile broadband network that delivers 4G speeds in the Northeastern U.S. and other major cities across the country.
As the company continues to aggressively broaden its HSPA+ network in the New York City metropolitan area, including New Jersey and Long Island, T-Mobile announces the further build-out and widespread availability – right now – of its super-fast network in adjoining regions, including Upstate New York (Albany, Buffalo, Rochester and Syracuse), Connecticut (Hartford, New Haven, Milford and Stamford) and Providence, R.I. Already live in Philadelphia, as well the Washington, D.C. suburbs, T-Mobile's HSPA+ network will expand into Boston and Washington, D.C. in the coming weeks, further enhancing the Northeast corridor with 4G speeds.
In addition, customers in Memphis, Tenn., and Las Vegas, also now can stay connected on T-Mobile's high-speed mobile broadband network.
Using the HSPA+ wireless technology standard, the T-Mobile network currently delivers theoretical peak download speeds of 21Mbps1. T-Mobile's rapidly expanding HSPA+ mobile broadband footprint makes it easy for customers to enjoy 4G speeds2 on existing mobile broadband devices such as the T-Mobile webConnect™ Rocket™ Laptop Stick. In addition, more than a dozen released T-Mobile devices benefit from these enhanced speeds, with two high-performance smartphones available next month – the T-Mobile® myTouch 3G Slide™ and the Garminfone™.
T-Mobile's HSPA+ mobile broadband network now covers more than 30 million Americans. With an aggressive build-out plan, T-Mobile expects to make further significant leaps in the coming weeks and months to deliver 4G speeds in 100 major metropolitan areas, covering 185 million people in the U.S. by the end of this year.
T-Mobile customers with 3G smartphones who live in these areas served by the company's mobile broadband network are now getting enhanced data speeds without having to buy a new phone or spend additional money. Now, these customers can surf the Web, download files and share media on-the-go – many times faster on home-broadband-like speeds.
"Our competitors are asking consumers to pay more for faster wireless service with limited coverage and very few capable devices," said Neville Ray, senior vice president of Engineering and Operations for T-Mobile USA. "In contrast, T-Mobile is already delivering 4G speeds today to customers and we continue to make major leaps in expanding our HSPA+ mobile broadband footprint."
T-Mobile's next-generation network can provide consumers with a home-broadband-like experience on-the-go. T-Mobile currently has 5.2 million customers using 3G-capable converged devices on the network, a 33 percent increase in smartphone adoption since the end of 2009 and expects to increase that number to 8 million by the end of the year.