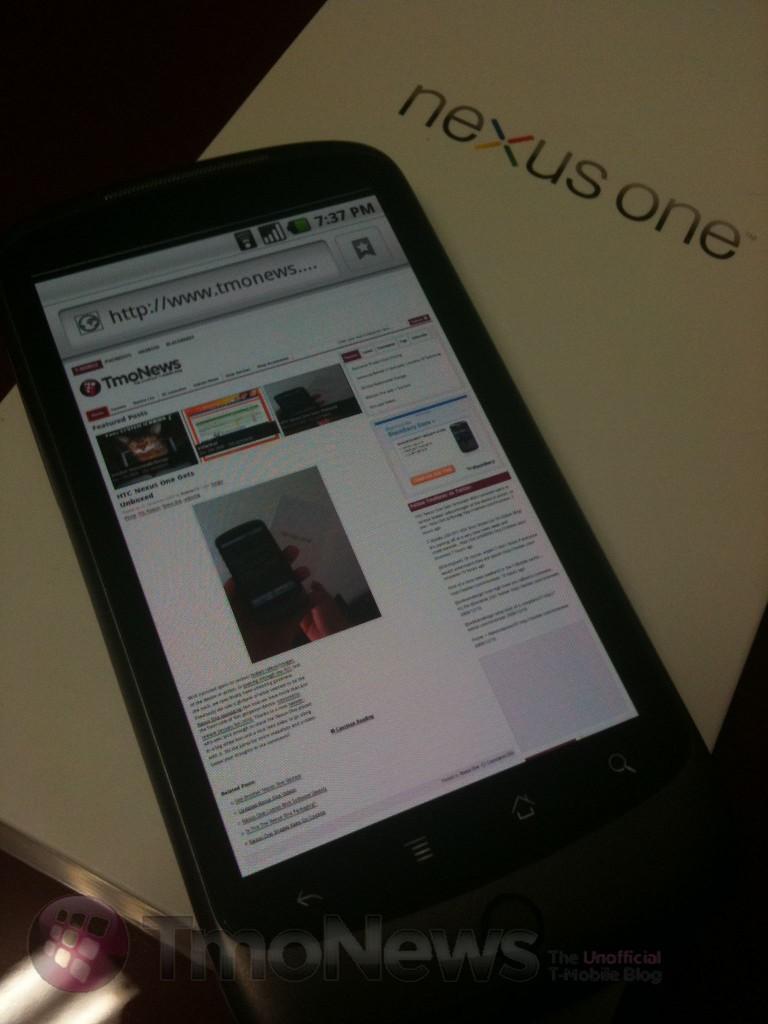 Remember, Rememer, the fifth of January (wait, that isn't quite right).  Well, at long last, today is the day.  Google has gone all official with the Nexus One, and with it a host of information.  So, we decided to put it all in a nice recap.  So hang on past the break, I hear it's quite a trip.
UPDATE: In these times, it's all about conservation, so I have decided to link all the hands on experiences and reviews to this one post, so keep checking back.
PhoneDog – Hands on (I'm sure they will have all sorts of very detailed reviews coming soon)
Engadget – Hands on
Engadget – Review
NexusOneBlog – Review
BGR – Unboxing/Hands on
Cnet – Unboxing
Cnet – Review
Gizmodo – Review
Let's start with stuff that we already know.  The Nexus One is made by HTC with a bunch of involvement with Google.  You could buy it now for $180 on a two year contract or $530 unlocked.  You can purchase this phone direct from Google at their web store.  Speaking of the web store, you can do some live demos online, all transmitted through the tubes of the internet, somehow, and all you will need is a Google Account.
Now, for the basic specifications and features (see picture or read on).  It works on T-Mobile's now faster 3G (yes, this does deserve its own sentence).  The Nexus One is powered by the now famous 1 GHz Snapdragon processor.  All action (you know, drooling over and typing on, and the like) will be done on the 3.7 inch, 480×800 AMOLED screen, which is beautiful.  On the back you have a 5 megapixel camera with LED flash, capable of MPEG-4 video and direct YouTube Upload.  You will also get GPS, stereo Bluetooth, 3.5mm headphone jack, a compass,  two mics for "active noise suppression," light and proximity sensors, an accelerometer, and a fancy multicolor LED in the trackball for notifications.  Oh, and it's thin, 11.5 mm (so thinner than a #2 pencil).
Now, for the software side.  The Nexus One will come with Android 2.1, which looks to be a better version of 2.0 (which is awesome).  It will come with five homescreens (yes, please), live panels, and the new card like view of the homescreens.  There will also be a snazzy 3D photo gallery, which will background sync with Picasa (go Google).  Voice commands will be implemented everywhere, including in every text input box (yes, texting while driving is bad, don't do it.  Keep your eyes on the road, please).  Oh, and apps can be installed onto the SD, so no more rooting for just one feature.  Of course, no multitouch in Google Apps, still no idea why, but this shouldn't be a deal breaker.  In addition, Google Earth is coming to Android, YAY!  On a completely different side note, Google is planning on bringing EVERY Android phone to 2.1, if they can support it, :(.
Lastly, I would like to leave you with a pleasant review of the Nexus One, by one Lucky guy over at Engadget(I hate you Josh, just kidding…..but seriously).  We also have a hands on by Gizmodo.  As more people get the Nexus One, we will surely do a Review roundup (so look for that).