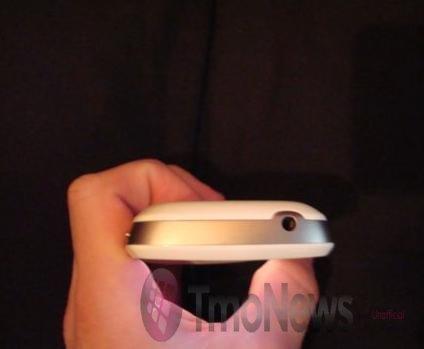 Update: As it turns out, these are from a live eBay auction so if you really want to own this device 3 weeks early, hit the link!
Well perhaps its just 5:30 in the morning and I'm not quite sure what's going on but the overnight was good enough to grace me with purported images of the MyTouch V1.2. Looking almost exactly like the old one (as expected) the only noticeable addition here is the placement of the 3.5 mm headset jack on the top just like the Fender LE edition. That's really about it as the second image of just the back shows no distinguishable markings that separate it from the looks of original MyTouch3G. Actually we take that back, like the Fender LE, it's possible this MyTouch also has the reported additional on board ram for some extra juice and multitasking horsepower. So if you've been holding off for this long on buying the MyTouch3G because of a lack of a 3.5 mm handset, your prayers have been answered.
Really, while the addition of a 3.5 mm headset jack is nice, it's what should have been from the onset of the device itself so let's talk when you add a Qwerty keyboard to the device, mmmkay?
The shot of the back of the phone follows the jump!