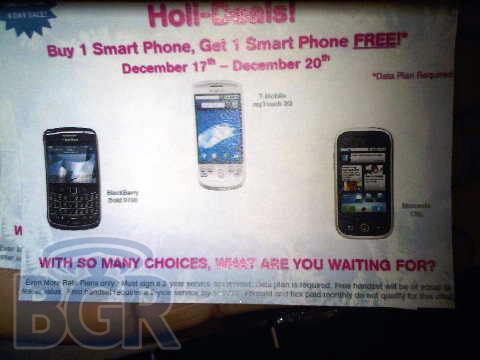 T-Mobile is getting into the holiday spirit and offering some pretty nice deals. Anywhere from discounts on various handsets to apparently now, BOGO offers. Starting today December 17th through December 20th, T-Mobile Corporate Stores will be offering BOGO (Buy one get one free) on all smartphones. But wait there's a catch! According to BoyGeniusReport, this offer will not be available in all T-Mobile Retail Stores. But being the awesome wireless provider T-Mobile is, most T-Mobile retail locations will "Price match" as long as you have some form of proof that the offer exists.
To take advantage of this offer, you will need to activate two new lines of service. For example you can purchase a BlackBerry Bold 9700 and get the HTC Touch Pro2 for free, or get a myTouch 3G and receive the G1 for free.
Sound off in the comments! Anyone take advantage of this awesome offer?