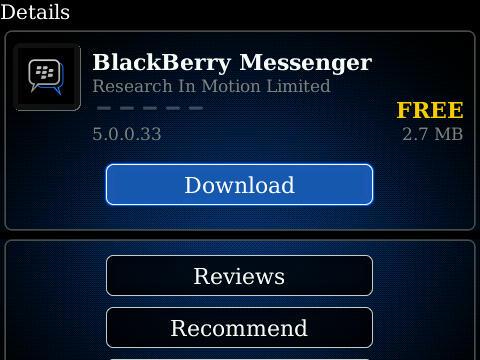 RIM (Research In Motion) is right on schedule with the release of the BBM (BlackBerry Messenger) 5.0. BBM 5.0 is now officially available in BlackBerry App World, or you can visit blackberry.com/blackberrymessenger from your BlackBerry's Web Browser to download without the App World for devices running OS 4.5 and higher. Here are some the goodies BlackBerry Messenger 5.0 includes:
Avatars can be easily set up and then populated from BlackBerry Contacts
Group Functionality – allows groups of friends, family and personal contacts to stay connected & share experiences instantly on their BlackBerry smartphones:

ongoing group chat
sharing pictures
organizing tasks and events with shared lists and calendars

Bar-code identity – easily add/invite contacts to BlackBerry Messenger by displaying a 2-dimensional bar code that the invitees can capture with their BlackBerry camera
Large Media File Transfer – up to 6MB
Make sure to back up your BBM contacts before upgrading just in case any hipcups occur. Feel free to leave your thoughts in the comments!