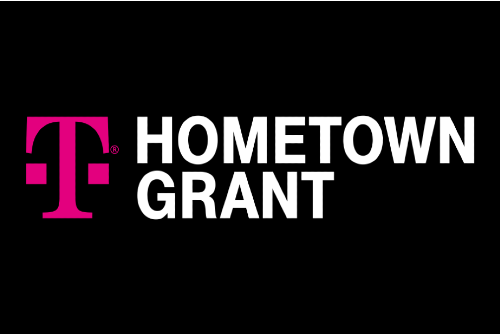 T-Mobile has unveiled its next batch of 25 Hometown Grant winners and their projects.
Unless you've been living under a rock, you probably know about T-Mo's Hometown Grants project that it launched last year. But just a refresher, this is a $25 million, five-year initiative of the wireless carrier to support "the people and organizations that help small towns across America thrive and grow."
Ever since the program started, T-Mo has given over $4.4 million dollars to fund 100 community development projects in 36 states.
And now, T-Mo has released the next batch of winners and their projects:
South Lake Tahoe, Calif.: Envision Ski Run Park. A community-led project to create a brand-new gathering place for kids and families that will feature an iconic play structure, a climbing boulder, a plaza, mural wall, and a large community table.
Adel, Iowa: Beautify Pedal Plaza, including seating, shade structures, landscaping and a musical flower art installment to promote community walkability and gathering.
Lansing, Iowa: Redevelop the Lansing Community Plaza in the historic Downtown District, to include a mural, canopy, landscaping, lighting, benches and new cement surfaces.
Marshalltown, Iowa: Reconstruct downtown State Street, including enhancements to landscaping and safety and accessibility infrastructure for pedestrians and cyclists, damaged after the 2018 EF-3 tornado disaster.
Hutchinson, Kan.: Renovate the Hutchinson Zoo with the addition of a Nature Play themed playground, including a splash river and greenspace to provide a dedicated and inclusive play space for children of all abilities.
Columbia, Ky.: Build a multi-use arena on the Adair County Fairgrounds to host community and student 4-H agricultural education events.
West Point, Ky.: Renovate Veterans Park Pavilion along the Ohio River to help revive and increase tourism in the historic district area.
Chelsea, Mich.: Transform the brick-and-mortar Chelsea District Library with the addition of the "Mobile CDL" – a library on wheels, that will not only deliver books, but be outfitted with connectivity devices, programs, mobile office solutions, and Wi-Fi to increase accessibility to technology resources within the community.
Oxford, Mich.: Support the refinishing of the back section of one of the four quadrants of the Oxford downtown area and provide additional activities to the area.
Howard Lake, Minn.: Construct a community library facility to provide vital connectivity resources such as public-use computers and Wi-Fi, tele-commuter conference room and a soft interview space for the local police department.
Nixa, Mo.: Expand the John Thomas School of Discovery Gardens program, to include a vertical aeroponic gardening system, providing sustainability and entrepreneurial agriculture education to youth and produce resources to the local food pantry.
Poplar Bluff, Mo.: Construct the Wolf Creek Connector Trail, a trail connecting the Wolf Creek Trail, Shelby Road Trail, and the Mark Twain National Forest, creating safe and accessible infrastructure for residents to enjoy outdoor activities.
Minden, Nev.: Transform the historic Copeland Lumber building into an Arts Center to include an art gallery, performance venue and artisan store to strengthen arts and culture within the community.
Salem, Ohio.: Revitalize and beautify McCulloch Park to attract downtown visitors and provide a space for community gathering and events.
Altus, Okla.: Provide a multipurpose facility for Dream Big Project Management mentor program, which will include connectivity resources and a training space for youth and young adult development.
Oil City, Pa.: Revitalize the 5th floor of the historic 100 Seneca at Cornplanter Square with a co-working and maker space, outfitted with technology and artist equipment such as large format and 3-D printers, sewing machines and more to support an entrepreneurial business innovation center.
Lock Haven, Pa.: Transform Fallon Alley to promote walkability, support local businesses with a digital kiosk and provide a solar phone charging station for needed connectivity.
Abbeville, S.C.: Renovate the Abbeville Civic Center to use as a multi-faceted community space, making ADA accessible upgrades for the entire community to enjoy.
Lawrenceburg, Tenn.: Modernize the Lawrence County Senior Center with structural and ADA accessibility upgrades to continue to serve the community with meals, programs and more.
Mooresburg, Tenn.: Relocate Mooresburg Community Association (MCA) and its Community Center to a more accessible and safer location, making needed structural and ADA accessibility renovations to enable MCA to continue to provide social connections, healthy meals and other critical services to older and disabled residents in the community.
Falfurrias, Texas: Build "The Quarter" – the area's first community park – complete with food truck accessibility, public seating and a stage for local musicians to foster local connections and increase community vibrance.
Staunton, Va.: Expand Staunton Community Garden Park, a vibrant garden oasis that serves as an affordable food source and recreation area for locals.
College Place, Wash.: Complete Lions Park renovation – a vital hub for the community – to include new electrical and lighting throughout the grounds.
Newport, Wash.: Revitalize the Pend Oreille Playhouse community theater, with upgrades to the box office, signage and HVAC system.
Waupaca, Wis.: Launch "The Lawn," a creative greenspace project in the heart of downtown to be used for events and community gathering.
"With one year since T-Mobile launched Hometown Grants, I continue to be amazed by the extraordinary projects that small towns are creating with our support. As the Un-carrier, I am proud of our deep commitment to investing in communities across the country, and I'm excited to see what this next round of winners will accomplish."

Jon Freier, President, Consumer Group at T-Mobile
You can read more about this announcement here.
Source: T-Mobile