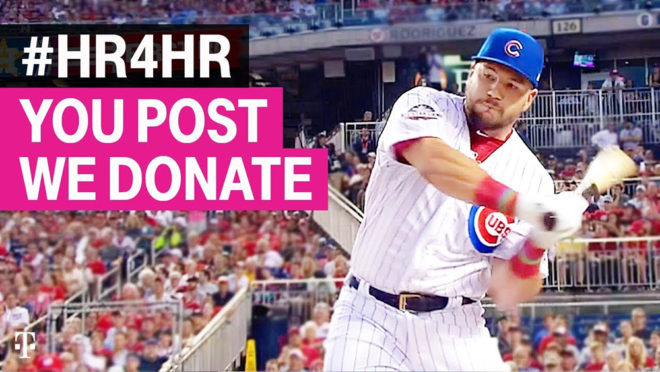 Last year, T-Mobile used its #HR4HR (Home Runs for Hurricane Recovery) effort to raise money for Team Rubicon and the group's hurricane recovery efforts. Now T-Mo is doing it again.
T-Mobile is reviving #HR4HR for the 2018 MLB postseason. With this effort, T-Mobile will donate $5,000 to Team Rubicon for every home run hit in the MLB postseason. Regular, non-home run hitting folks can help out, too, by posting with the hashtag #HR4HR to Twitter or Instagram. T-Mo will donate $1 for every post, tweet, or retweet that uses #HR4HR through the end of the World Series.
Team Rubicon is a non-profit organization that utilizes the skills of military veterans with first responders to help deploy emergency relief to those affected by disasters and humanitarian crises. Last year, T-Mo donated $2.78 million to Team Rubicon with the #HR4HR campaign, and now T-Mobile and Team Rubicon are working together again following Hurricane Florence.
Here's Jake Wood, CEO of Team Rubicon, on T-Mobile's partnership:
"T-Mobile's support of our mission has been critical to Team Rubicon's growth and impact over the past year. Their contributions supported our initial Hurricane Harvey response efforts, and helped us make a long-term commitment to rebuild 100 storm-damaged homes in the Houston area. We couldn't be more grateful to T-Mobile for their partnership and their support of the broader veteran community."
Source: T-Mobile