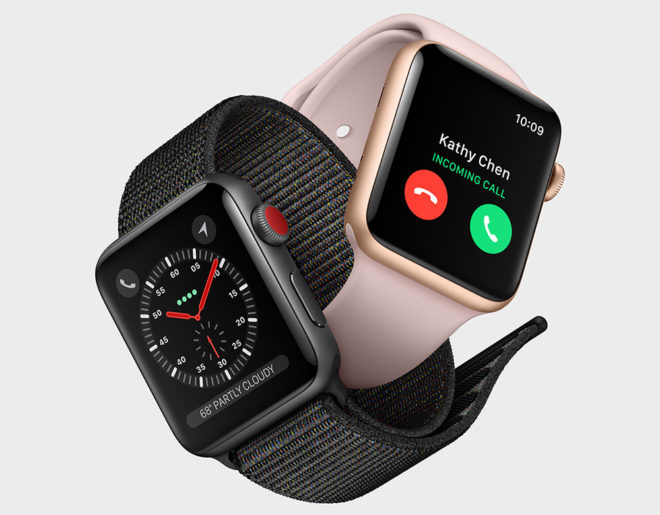 T-Mobile today kicked off a new Apple Watch deal.
For a limited time, you can buy an Apple Watch Series 3 and get half off a second Apple Watch Series 3. Specifically, you'll get $215 off, which is half off the full price of the 42mm Apple Watch Series 3 model.
To get this deal, you'll need to buy both Apple Watch units on an Equipment Installment Plan (EIP) with a DIGITS Apple Watch plan on the same line. You're also required to add at least one new paid DIGITS Apple Watch line if you're an existing customer or two new paid DIGITS Apple Watch lines if you're a new customer. You'll need to pay the required down payments and taxes for each watch at the time of purchase, too.
Once you meet all those requirements, you'll get $215 in the form of 24 monthly bill credits. You must remain active on a paid DIGITS Apple Watch plan with active EIP in order to continue receiving those bill credits.
T-Mobile's DIGITS service allows you to sync your phone number to your Apple Watch. This means that when someone calls your regular phone number, it'll ring your Apple Watch at the same time. DIGITS service is priced at $10 per month with autopay or $15 per month without.
With its built-in cellular connectivity, the Apple Watch Series 3 can let you leave your iPhone at home but still get your calls and texts. You can also get alerts from other apps, and Apple Music subscribers can stream music from their wrist with the Apple Watch Series 3. The device serves as a way for iPhone owners to lighten their load while they're out while still staying connected, so if you've got an iPhone and that sounds appealing to you, you may want to check out T-Mobile's limited time Apple Watch deal.
Thanks, Javier!
Source: T-Mobile