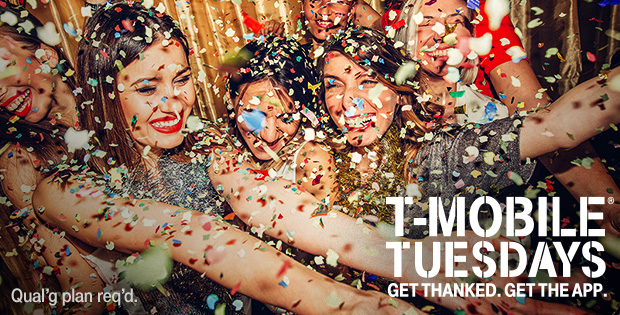 Next week's T-Mobile Tuesday falls on the day before Valentine's Day, and today T-Mo revealed what it's getting its customers for the holiday.
For the February 13 edition of T-Mobile Tuesdays, T-Mobile customers can get free Dulce de Leche Crunch Pancakes from Denny's. T-Mo is also giving customers a meal and a movie in the form of $25 to spend at Restaurant.com and a free movie rental from VUDU.
Rounding out next week's gifts is an Ultimate Ears deal. T-Mobile customers can buy two Ultimate Ears Boom 2 speakers from T-Mo and get 40 percent off. The UE Boom 2 is normally priced at $199.99, but its currently $20 off in T-Mobile's online store.
There will be one grand prize winner next week, and it's based on the upcoming movie Red Sparrow. The winner will receive a trip for two to Washington D.C. that includes a half-day tour of the city with a former CIA agent in a "luxury chauffeur-driven transport", a visit to the International Spy Museum that includes an interactive spy mission, a $100 Spy Museum Store gift card, and a visit to an "exclusive bar with great views of Washington D.C." as well as a paid bar tab up to $100. If the winner is under 21, an alternate location will be chosen.
The trip also includes round trip airfare, three nights in a hotel, transfers to and from the airport and hotel, and a check worth $2,120 for taxes and other expenses.
The total value of the grand prize is $7,070.
Source: T-Mobile Tuesdays