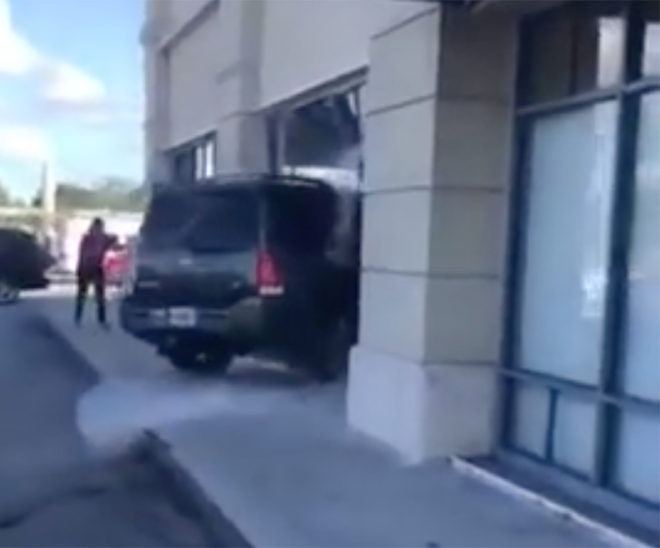 A woman who recently had a "bad day" decided to take it out on a T-Mobile store.
A video posted online shows a woman driving her SUV into a T-Mobile store in Palm Springs, Fla. Shinobia Montoria Wright is said to have visited the store on Wednesday to exchange her cracked iPhone, then returned the next day and drove her vehicle into the store. It's said that she then started smashing glass displays with a squeegee and hit an employee on the neck when he tried to stop her from going into a storage area.
After being taken to the hospital, Wright explained that she was upset about being told that she'd have to pay for her replacement phone even though she had insurance. She also told police that she was having a "bad day." Police say that their preliminary investigation shows that neither drugs nor alcohol were involved.
It's pretty crazy to watch this SUV hop onto the curb and drive through the glass windows and into the store. Thankfully, no lives were lost. Wright had surgery as a result of injuries to her forearms from driving the vehicle into the store, and one of the store's employees injured his knee after a display case was knocked over by the SUV. It's estimated that the store suffered more than $30,000 in damage.
Wright has been charged with aggravated battery, battery, burglary, criminal mischief over $1,000, and reckless driving, but she missed her initial appearance in front of a judge due to her injuries.
In other news related to this incident, today comedian Chelsea Handler tweeted that "A woman drover her car through the front of a T-Mobile store in Florida, it's the only place she could find service." Sprint CEO Marcelo Claure commented on the joke, saying, "So funny and so true!!" T-Mobile CEO John Legere told Claure that "many lives were endangered & it was a criminal act. It's actually not funny."
@marceloclaure many lives were endangered & it was a criminal act. It's actually not funny.

— John Legere (@JohnLegere) January 15, 2017
Source: Palm Beach Post