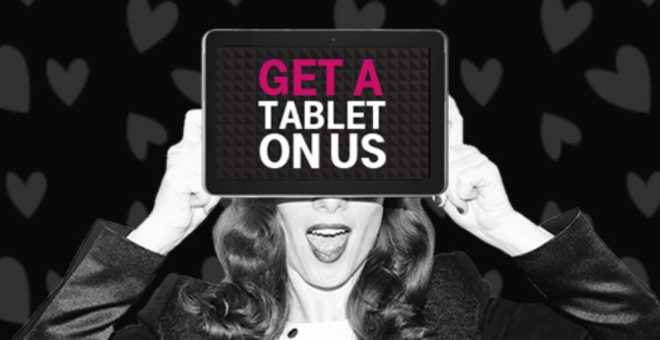 T-Mobile has kicked off a Valentine's Day sale that includes discounts on tablets and phones.
First up is a revival of the "Get a Tablet on Us" promo that we saw last year. The Alcatel OneTouch Pixi 7 can be yours for free if you buy the Android tablet on EIP and activate it on a 1GB or higher data plan. When you do, you'll see a $7.00 monthly charge on your bill for the Pixi 7 as well as a $7.00 credit to cancel it out. These credits will continue every month for 24 months, so long as you keep your 1GB or higher data plan active. If you cancel the tablet or plan, you'll have to pay the remaining EIP balance.
This Alcatel OneTouch Pixi 7 offer is available in stores, online, and by calling 1-866-201-3593. T-Mo says this free tablet deal will be available "for a limited time."
If the Pixi 7 isn't your style, T-Mobile is also discounting the iPad Air 2. You can cut $50 off the price of the iPad Air 2 with promo code SWEETDEAL50, which can be used online or through telesales. With the code, the prices of the iPad Air 2 fall to $579.99 for 16GB, $679.99 for 64GB, and $779.99 for 128GB. This deal will end on February 11.
There are some deals to be had on smartphones, too. The Samsung Galaxy Core Prime and Samsung Galaxy Grand Prime are $40 off with code SWEETDEAL40, leaving them at $99.99 and $149.99, respectively. Meanwhile, the LG G Stylo can be had for $214.99 with code SWEETDEAL75.
T-Mobile is also offering a a 4G LTE Z915 mobile hotspot for $89.99 with code SWEETDEAL, a free 3-in-1 SIM Starter Kit with purchase of Simple Choice plan with code FREESIM, and a prepaid 3-in-1 SIM Starter Kit for $0.99 with code SIM99. Rounding out the deals are offers on a number of accessories, like 20 percent off Beats headphones with code BEATS20 and $10 off a selfie stick with code SELFIE.
Sources: T-Mobile (1), (2)