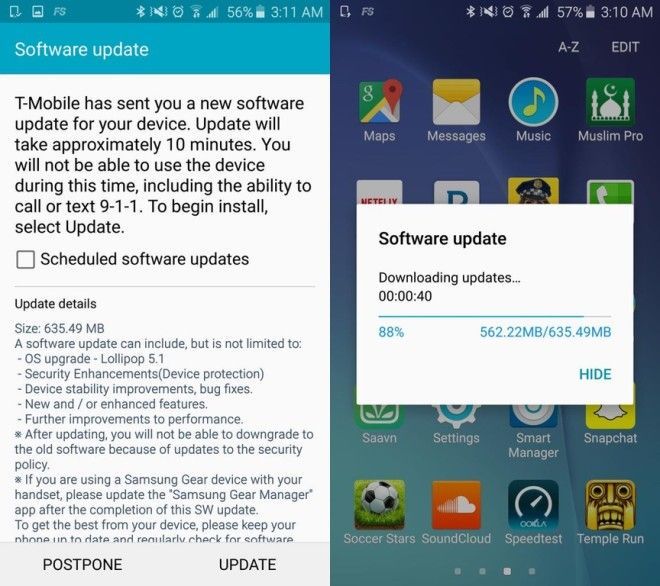 In the early hours of this morning, T-Mobile began the rollout of the next software update for T-Mobile customers using the new Samsung flagships. Both the Galaxy S6 and Galaxy S6 Edge now have the Android 5.1.1 refresh available. The update brings with it some performance boosters and Guest Mode.
In line with the update, T-Mobile has updated its support pages with a breakdown of changes and fixes. The Galaxy S6 and S6 Edge software baseband version is G925TUVU1AOF6 and weighs in at 635.45MB. Improvements include fixes for camera LED flash issues, reboot failure error message fix and a performance booster for the fingerprint scanner as well as other bug fixes and optimizations. SamMobile notes that theres a new parallax effect for backgrounds as well as some more precise camera controls.
With Guest Mode being added to the S6 and S6 Edge, customers will now be able to switch to a guest profile which prevents other people from accessing your personal information, messages, settings, apps and photos. Once guest mode has ended – and you return to your own account – the guest mode session data is wiped from memory.
[UPDATE – Apparently Guest Mode isn't in this update. But it might in the next one.]
There's a chance you haven't received an OTA notification yet for this download, so be sure to go in to your settings and check for software updates manually. As always, let us know how you get on with the update and if you spot any new features we haven't heard of yet.
Thanks, Muhammad
Source: SamMobile
Via: Android Central