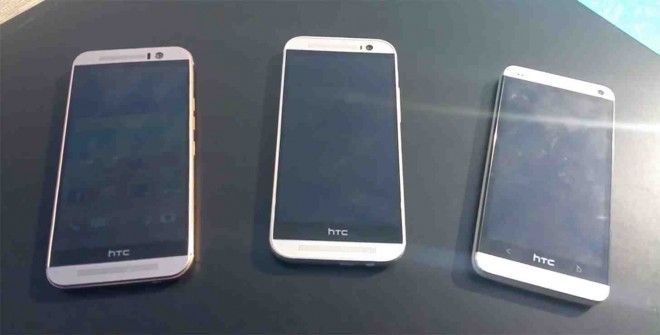 Tomorrow at MWC in Barcelona, HTC is going to be taking the wraps off its next One smartphone. The One M9 is widely expected to be a refinement of previous generations, with boosted specs and slightly different design. And it's made one last appearance on video before it's no longer a rumor.
Uploaded by YouTuber, Samia Lou, the video shows off what he claims is the HTC One M9, alongside the M7 and M8. And there are some small differences between them. The biggest improvements, from a physical standpoint, are the redesigned buttons on the right edge. Which – for the first time – includes the power/sleep key. And the edge looks gold in color, which adds that slight element of sophistication to the aesthetics.
Other rumored specs include a 1080p display and a Snapdragon 810 processor. The biggest change is on the back, where the dual camera system has been replaced by a single camera with (presumably) more pixels packed on to the sensor.
Of course, we're expecting T-Mobile to carry HTC's next device whatever it ends up being. Even if this isn't the finished product, or some elaborate prank to fool us before the phone is announced, I'm still excited by the prospect of a new HTC One. It's the one smartphone each year that shows what you can do with a single piece of aluminium if you design well enough.