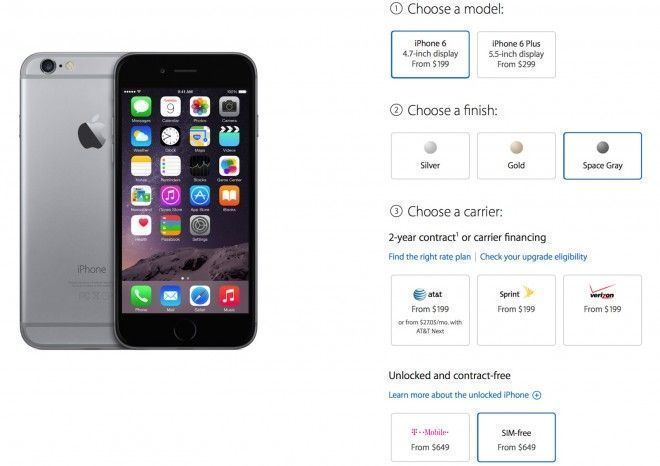 Today, Apple started selling iPhone 6 and iPhone 6 Plus models unlocked and contract free with support for 20 national and international LTE bands. Just like the T-Mobile model, pricing starts at $649.
Just a few months ago, Apple started selling the iPhone 6 and 6 Plus. They were firsts for T-Mobile fans for a couple of reasons: They supported Wi-Fi calling and VoLTE. What's more, Apple has been selling the T-Mobile version of the iPhone unlocked and contract-free, with the option for signing up to T-Mobile's financing program in store.
As a T-Mobile customer then, you've already had it great from Apple this past few months. So today's news may not mean that much to you.
But if you're a T-Mobile customer who likes to travel, or if you like being able to swap out different carrier SIMs when you feel like it, this unlocked model will offer more flexibility. Model numbers are A1586 and A1524 for the 6 and 6 Plus respectively and they support LTE on the following U.S. carriers:
Appalachian Wireless
Bluegrass Cellular
Boost
C Spire
Cellcom
Chariton Valley
Chat Mobility
Defense Mobile
MobileNation
Nex-Tech
NorthwestCell
nTelos
Pioneer Cellular
Sprint
STRATA Networks
Syringa
Thumb Cellular
United Wireless
US Cellular
Essentially, the new model is the Sprint iPhone 6 with a few added bands. Sadly, there is no support for T-Mobile's band 12 700MHz frequency network on this model. My guess is we will be waiting until the next generation of Apple smartphones before we see compatibility with the low-band T-Mo network.
Short version of the story: Check through the available bands on both and weigh up which suits you best.
Source: Apple 1, 2 and 3
Via: 9to5Mac, TodaysiPhone