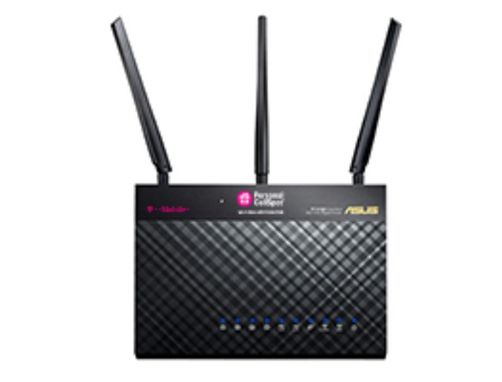 Last week, T-Mobile announced its latest Uncarrier phase, setting Wi-Fi calling and texting free by ensuring that all new phones on sale would be compatible with the service, and signing a deal with GoGo for in-flight texting and voicemail. The latter of which is available from today.
But the cherry on the cake was the new Personal Cellspot.
"Available for every qualifying Simple Choice customer with a high-speed broadband connection and a Wi-Fi calling capable smartphone, the T-Mobile Personal CellSpot™ is like having a personal T-Mobile tower in your home – or wherever you decide – powered by proven Wi-Fi technology.  You'll have a "full-bars" T-Mobile experience and HD voice calling over Wi-Fi for coverage beyond the reach of cellular. All a customer has to do is go into a T-Mobile store or call T-Mobile's Care line to get a Personal CellSpot sent to them for no extra charge with a $25 refundable deposit."
The Cellspot is essentially a modified ASUS dual-band AC wireless router with fantastic range and speed that's been optimized to prioritize Wi-Fi calling and texting without affecting performance. And it's available from today for qualifying customers. If you're on Simple Choice and you have a high-speed broadband connection at home, you'll be able to take advantage by putting down a deposit of $25. For a router that's worth over $200, that's a steal. Of course, if you decide to return it, you get your deposit back.
Key Specs of the Personal Cellspot:
Compliant with 802.11 a/b/g/n/ac standard
Dual-band data rates (2.4 GHz and 5 GHz) of 1900 Mbps
3 external antennas to extend coverage up to 3000 square feet
Encryption: 64/128-bit WEP, WPA/WPA2-PSK, WPA/WPA2-Enterprise, WPS
Dual USB ports
It's available in select retail stores and online through T-Mobile.com from today. Of course, if you don't qualify to get it free with deposit, you can purchase one for just $99. Again, a steal for a router worth so much more.
As a sort-of pre-warning, the router doesn't have a modem built in. So don't go throwing out your wireless router modem just yet, or your standalone modem (if you have one of those).
Let us know if you're planning on picking one up.
Somewhat coincidentally, I have my own ASUS RT-AC68U wireless router arriving today, which is very similar to T-Mo's Cellspot (if not virtually identical). So I'll have the same setup experience as you, without the Wi-Fi calling (until my EE-powered iPhone 6 Plus arrives, at least).
UPDATE: It's not available to buy online yet. You can order over the phone, or in store.
UPDATE #2: Stores can't sell their inventory, apparently. They've got the stock, but a system glitch is getting in the way. A reader got in touch with the following information from his local retail locations:
" You cannot get CellSpots in store until the 24th due to a system issue. They do not have it in the system to sell in person. But they can sell their stock from warehouses, and ship-to you. They can set this up in store, or over the phone. (Just tried to get one from 2 different stores.)"