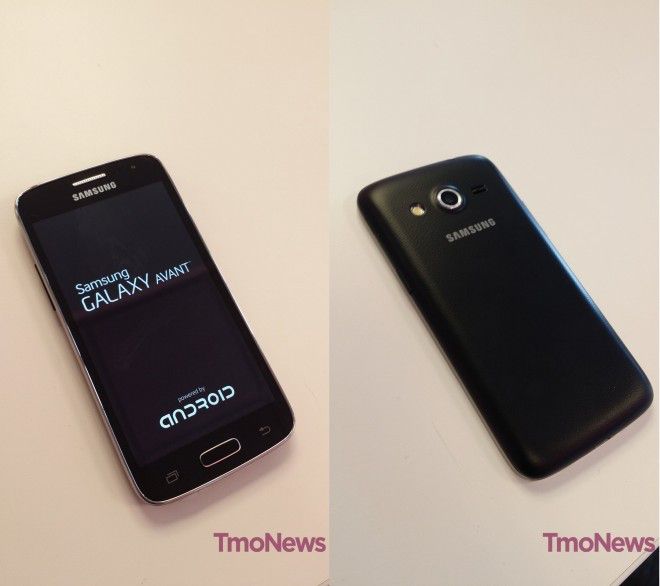 Recently, evleaks got hold of an official pre-release press image of an upcoming Samsung device for T-Mobile: Galaxy Avant. Today, we've also been given some images of a test unit and a piece of information regarding a very interesting piece of software preloaded on the device. This particular device has model number "sm-g386t", has 16GB storage and comes loaded with Android 4.4.2. Like the press image showed, it has a central camera on the rear shell, while the shell itself has an unusual pebbled texture. On the front, is a very Galaxy-esque design, complete with physical home button and capacitive menu and back keys. 
As for the interesting piece of software: Two test drivers of the device noted that the phone had a pre-installed app for carrier unlocking the device. Upon booting up the app and going through a couple of prompts, the device was completely unlocked. Our source noted that he tried a VZW SIM card, which worked fine. Interestingly, once the phone was unlocked and the phone restarted, the device unlocking app was no longer there.
Sadly, because the test engineer had already used the app, and it vanished after doing so, we've not been able to get hold of any images of the app icon, or the app going through its paces.
Perhaps more interesting is that upon ringing the care team to confirm the unlock, the tester(s) were informed that the gen care team are no longer processing unlock requests. Stating that "…according to our local business support, gen care solution centers no longer own the device unlocking process as part of their scope of support (or won't soon enough)"
Now it's possible I'm getting ahead of myself here. But, if T-Mobile test units are coming loaded with a carrier unlocking app, and gen care aren't processing requests anymore, is there a possibility that it could make its way to all devices sold on T-Mobile? We've already heard that one part of Uncarrier 5.0 could be simple billing, by including all taxes and fees in the monthly payments. So, a $50 plan is a $50 plan with no added charges. What if another phase was having the freedom and the ability to unlock your phones and go with another carrier if T-Mobile doesn't work for you? What's more, having the ability to do it through an app on your phone, and not needing to speak to a customer service rep.
It does line up with an opinion I shared a while back. In short: If T-Mobile really wants to be the Uncarrier, it shouldn't just give people freedom from traditional contracts, but traditional network locks too.
While it's clear that T-Mobile is testing this service, it's not clear what it means for the future. My immediate reaction would be to predict an announcement at Uncarrier 5.0. It could give Magenta bragging rights over its rivals, doing something risky – yet again – that its competition would never dare try. Sadly however,  I've received no information to confirm that prediction so far. That said, the clues are definitely there.
For now, stick it on the "something interesting" shelf, and hope that Legere&Co. announce plans on Wednesday.
Quick update #1: Just to point you towards a T-Mo employee in the comments section below: "In order to unlock any T-Mobile device, please contact care or tech support. No changes have been made to the scope of support. Thank you." 
Maybe this one is a little too good to be true.