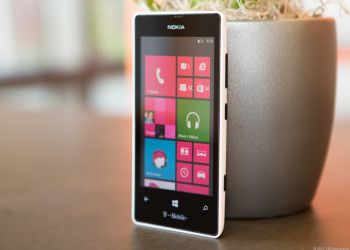 The Nokia Lumia 530 – codenamed Rise – is allegedly on its way to T-Mobile soon. It's expected to be the successor to the Lumia 520/525/521, although T-Mobile has already announced that it will be carrying the recently unveiled Lumia 635. Which is also being hailed as the successor to the 520 series…

If the "Rise" does arrive, it'll help bolster Magenta's Windows Phone offerings, which some might say is a necessity. Currently, WP options on T-Mo are limited and we still haven't heard of T-Mobile plans on releasing the upcoming flagship Lumia 930. The brightly colored phone is essentially the GSM equivalent of Verizon's exclusive Lumia Icon.
As for branding, now that Nokia is no longer its own company, and even the company's HQ in Finland has had all "Nokia" verbiage removed, it's likely that all future Lumia devices will launch minus the old brand name.
We don't have a release date for the Lumia 530, but once it's official, or we hear more from our usual insider elves, we'll be sure to let you know.
Via: evleaks