Earlier this week, Reuters published a report stating that when it comes to smartphone purchasing, T-Mobile was the third biggest carrier in Q1. In terms of smartphones, according to research undertaken by Counterpoint, T-Mobile is now closing in on AT&T, having purchased 6 million smartphones, while Sprint purchased 5 million.
In terms of smartphones sold, T-Mobile sold 6.9 million while Sprint managed under 5M.
Counterpoint also broke down the manufacturer market share for devices sold in the 1st quarter, and interestingly, T-Mobile is the only carrier where Apple didn't take a commanding share of the available market.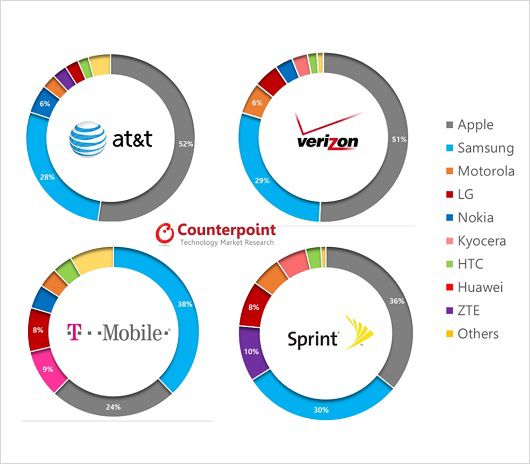 Of course, there are plenty of reasons for this. Firstly, T-Mobile sold the original Android phone exclusively: T-Mobile G1 before any other carrier started selling other models by other manufacturers. Also, the iPhone hasn't been available on T-Mobile for that long. Having only started selling the iPhone 5 just over a year ago.
But, as is the case with every other network operator, Apple and Samsung combined took more market share than all the other manufacturers put together.
While having outsold and and out-purchased Sprint in Q1 is a great sign that things are moving in the right direction, Sprint's overall subscriber base is still larger than T-Mobile's. Although, if T-Mo continues to pull in millions of new subscribers every month, and Old Yeller keeps shipping them over, those tables will soon turn.