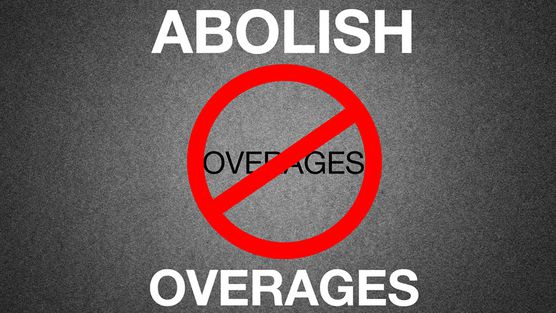 Last Monday, T-Mobile announced its 3rd of three plans to change the mobile industry for the better. And – although the phases weren't officially given any Uncarrier phase numbers, they were still pretty industry-altering in nature. The last of which was not only the announcement that it would abolish overages for its customers, but also a petition for other wireless carriers to do the same. John Legere laid down the gauntlet for his competitors with a petition over at Change.org, which has already received over 100,000 signatures in just over a week.
Last year alone around $1 billion in overages was charged to U.S. subscribers:
 "In 2013, more than 20 million Americans were hit with punitive overage charges by U.S. wireless companies, and all Americans have known the fear of wireless bill shock. Overage penalties from AT&T, Verizon and Sprint take more than an incredible $1 billion out of consumers' pockets every year.  It's time to show these companies that we're not going to take these outrageous fees lying down anymore."
Legere announced the milestone himself on Twitter a little earlier today, and is right to be impressed by the figure.
More than 100k people have signed the petition to #AbolishOverages. That's how many people fit in @ATT Stadium. Coincidence? #IThinkNot

— John Legere (@JohnLegere) April 22, 2014
It's worth considering that the other carriers might just follow T-Mobile's example here. Throughout the Uncarrier movement, in its various stages, the competitors have altered their plans to compete with T-Mo. Whether it's through announcing a EIP payment system, allowing early upgrades, or trying to pay off customers to switch networks, Magenta is having an influence. Overages are a profitable sideline for carriers historically, so it'll be interesting to see if Big Blue, Big Red or Old Yeller decide to respond to the challenge. Fingers crossed.
If you're yet to sign the petition, you can do so here.