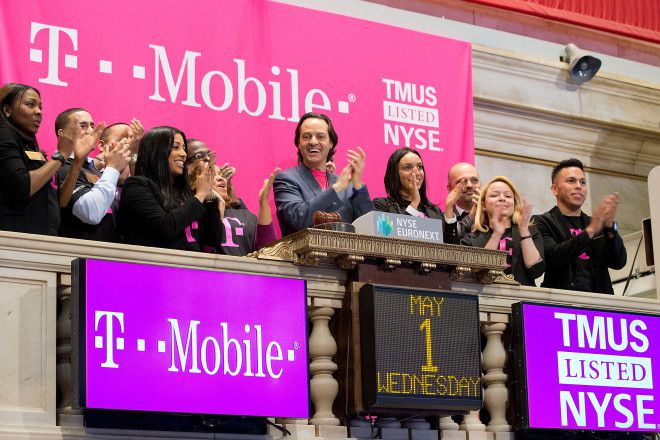 T-Mobile now is miles away from the company it was at the end of 2012. Revenue growth was at its worst point in years, and everyone but Magenta was selling the iPhone. Fast forward a year or so, and it's all changed. Revolutionary changes to the U.S. carrier model transformed Tmo in to the most talked about network operator in the business. Considering it's still the #4 carrier in the States in terms of subscriber base, that's no mean feat.
UBS put together a chart that compares the 4 major U.S. carriers' performances over the past couple of years. Specifically, comparing service revenue growth. Service revenue is the money generated by the company, growth of said revenue is simply what it says: The growth, or reduction of that revenue.
Take a look: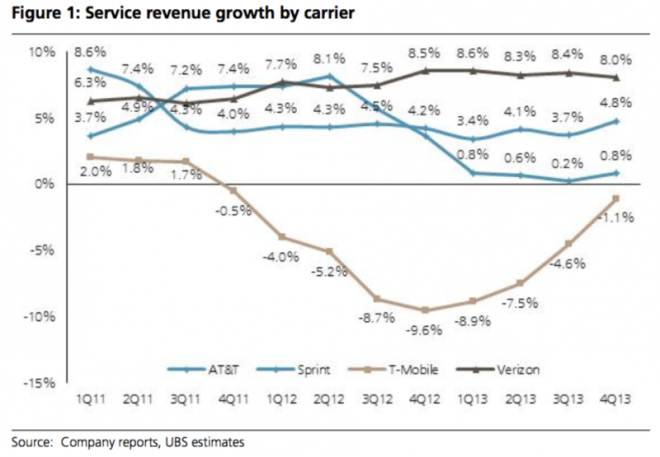 At the end of 2012, T-Mobile was down at -9.8%. In the space of 12 months, it got its growth back up to -1.1%. And while it's still in the negative, that's a growth of 8.5% in 52 weeks. No other company has grown that much in the same time frame. In fact, AT&T has been hovering at the 4% mark, Verizon at 8%-ish, while Sprint is flatlining at approx 0.5%.
What it shows on an industry scale is that even though the trend of 2013 was that the service revenue wasn't really growing, T-Mobile outgrew the industry and showed positive results.
On that note, it was also announced this morning that T-Mobile's stock price target has been raised to $30 due to "undeniable positive changes" by Jeffries analyst, Mike McCormack.
"McCormack said, "Recent strategic actions by TMUS, together with operating momentum exiting 2013, provide reason to be more optimistic. Pricing actions, plan changes, and the factoring of receivables suggest a more disciplined approach with an eye towards managing cash flow. Nevertheless, we continue to see risks to the story. In addition, device financing and receivables factoring makes comparability with Street estimates, and among carriers less meaningful."
This comes on the back of news that T-Mobile's valuation was recently raised to around $49 billion. $9 billion more than it was going to sell to AT&T for in 2011.
Chart via: Business Insider
Target lifted via: Street Insider