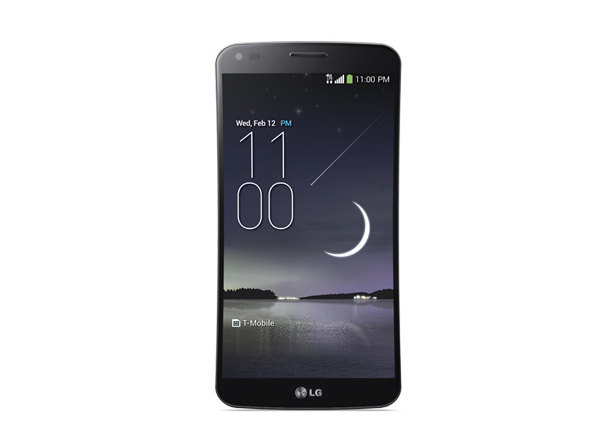 LG's latest phones are here. One is a gigantic, curved, bendable phablet while the other is a more mid-range, physical QWERTY-equipped horizontal slider. Both – I'm sure – will attract small portions of the market. Although, it's hard to see why anyone would stump up for the G Flex.
LG's gigantic banana is $0 down, with 24 monthly payments of $28 on EIP, taking the full price of the phone up to an eye-watering $672. Specs wise, it has a  6-inch, 1280 x 720 resolution display. Powered by 2GB of RAM and a 3,500 mAh battery, and a 2.26GHz quad-core Snapdragon processor, it's no slouch and offers plenty of storage space with a capacity of 32GB. It's available to buy on T-Mobile.com or in stores from today.
As well as the G Flex, LG's new Optimus F3Q is going on sale. It's very much a mid-range phone. It's got a 4-inch, 480 x 800 resolution IPS LCD display (233ppi), 1GB RAM and just 4GB of storage space, although it does have a Micro SD card slot. Its biggest selling point – for those who miss them – is a full QWERTY keyboard. It's $0 down and 24 monthly payments of $13, taking it just over the $300 mark. Like the G Flex, it's available from today at T-Mobile.com.
Let us know if you're planning on picking either of them up. As a complete side-note (inspired by the physical QWERTY), do you think Magenta should release a T-Mobile G3, or has the horizontal sliding phone died a death now?