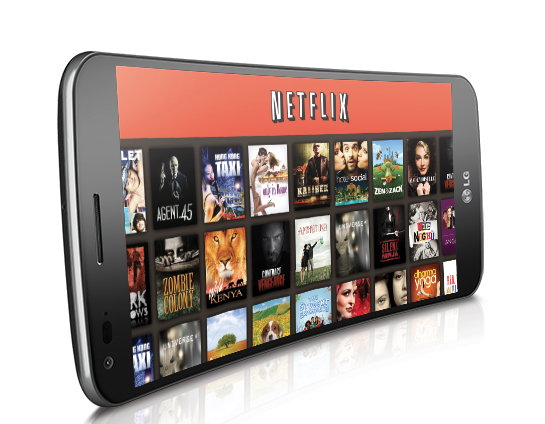 T-Mobile today officially announced that both of its upcoming LG phones will be available to buy from February 5th. Both the LG G Flex and Optimus F3Q will be released on the same day.
LG's G Flex is the most notable here, mostly due to its gigantic 6-inch curved OLED display. It also features a 13MP camera and a 3,500mAH battery. Like the G2, it also has the built-in Rear Key for convenience. As for pricing, it's going to be $0 down with 24 monthly payments of $28, taking it to $672 in total plus T-Mobile's Simple Choice Plan.
But that's not all, anyone buying the LG G Flex on T-Mobile will also be able to take advantage of an exclusive Netflix offer. Buyers will be receive 6 months of Netflix for free (usually $7.99 per month for the unlimited streaming plan). To qualify for the offer, customers will need to buy a G Flex between February 5th and April 30th. Further details are available here.
Pre-orders for the G Flex begin today. To check it out in more detail, or to pre-order, head on over to the product page on T-Mobile's site.
As for the horizontal slider, QWERTY-equipped Optimus F3Q, there won't be any pre-orders. It's being marketed as a mid to low-end device. But for those of you who miss the days of the T-Mobile G1 and G2, and haven't been able to cope with the disappearance of physical keyboards, this might just be the only option available. It features a 4-inch screen and a 5MP camera and won't cost the earth. Like the G Flex, it's $0 down, but will only cost $13 per month on EIP. That's a total of $312.
To read the full press release on the latest LG phones from T-Mobile, head on over to the Newsroom.