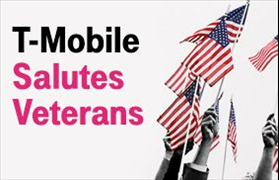 November 11 is Veterans Day, a day where U.S. citizens pay respect to veterans both current and past who have represented their country in war. In a post written by Larry Myers, T-Mobile's EVP and Chief People Officer, the company we know and love has paid tribute and highlighted its ongoing support for former military workers.
"Today is Veterans Day, and T-Mobile sends a big THANK YOU to all who have served our country including our employees, their loved ones, family and friends. We thank veterans for their selfless devotion to our country, and we thank their families and friends for the support and love they provide that is so important to everyone who serves."
The company's thanks doesn't end at a simple post saluting them. Magenta has been named as a Top 100 Military Friendly Employer by Victory Media too. What that means is that the company is "hiring former military, recruiting and hiring efforts and results, policies for Reserve/Guard members called to active duty, and the presence of special military recruitment programs."
Ending off the post with a simple but sincere thanks to veterans and their families, It's a nice touch from T-Mobile on Veteran's Day. Our own thoughts join up with those from T-Mobile HQ, especially with our readers who are either in the military, or have family members or close friends currently serving.
Via: T-Mobile