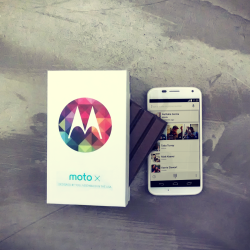 And, just like that, Android 4.4 for T-Mobile's Moto X is here. Motorola announced on its blog two days ago that the Verizon version would be updated to KitKat, now the Tmo version has it too. Here's what's included:
T-Mobile Moto X Android 4.4. update changelog
Android™ 4.4, KitKat: Android 4.4, KitKat, is the latest release of the Android platform. KitKat includes enhancements such as restyled status and navigation bars, a new full-screen mode, color emoji support, improved closed captioning support, stronger security, smarter power use, and more tools and capabilities for better app development.
Phone dialer: Improved the phone app with the ability to look up contacts directly from the dial pad, see and tap frequent contacts, and search your corporate directory easily.
Camera – Focus and exposure: Enhanced the "touch to focus" option with a new circular, on screen control that can be dragged by your finger around the viewfinder to adjust a photo's focus and exposure.
Gallery – Photo editing: Added new photo editing options to the Gallery app including new filter effects, draw on your photos, advanced cropping, and adjustments to color, exposure, contrast and more.
Hangouts -SMS/MMS support: Incorporated a new version of Google Hangouts that supports integrated SMS/MMS messaging. Hangouts can be set as the default SMS app under Settings > Wireless > Default SMS app.
Touchless Control – "Find my phone": Added a new "Find my phone" command to Touchless Control. Just say "OK, Google Now-find my phone" and your Moto X will ring loudly to let you know where it's hiding when you've misplaced it nearby.
NFC – Host card emulation: Enhanced support for NFC Host Card Emulation (HCE), to improve experiences such as contactless payments, loyalty plans, transit passes, card access and more.
Accessory support: Added support for Square credit card reader
As always, let us know how you get on with the update.