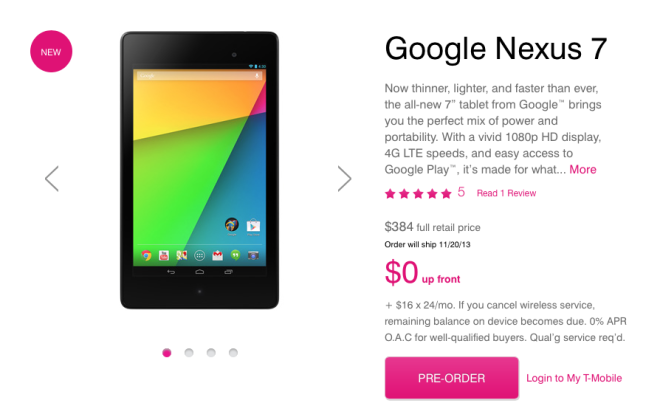 A couple of days back we got wind of T-Mobile's plans to launch the Nexus 5 on November 20th. In a retail management plan, it showed clearly that the day had been slated as the release date for the Nexus 5 on Tmo. Alongside it, it showed the Nexus 7 arriving at T-Mobile too. Looks like we now have some official evidence to support that leak.
From today, you can pre-order your new 2013 model Nexus 7 from T-Mobile. You can either pay $384 up front for the device, or take it on EIP and pay nothing up front ($16 x 24 months with 0% APR thereafter). If you order it now, you'll get your order on November 20th. As far as we know, since it's a tablet, you'll get the 200MB free data currently available to anyone purchasing a tablet from T-Mobile.
Of course, the Nexus 7 has been available to order from Google Play for a month or so now, but, now is the first time we've been able to get it from T-Mobile on the "zero down" financing plan. Specs wise, it's an impressive little gadget featuring a 7-inch, 1080p display packing in a pixel density of 323ppi. It only weighs .66 lbs and is a third of an inch thin and just under four-and-a-half inches wide, making it very pocketable. 2GB of RAM and 32GB of internal storage combine to make a quick device with plenty of room for all your photos, videos and music.
Let us know if you plan on pre-ordering it, or if you already have one.