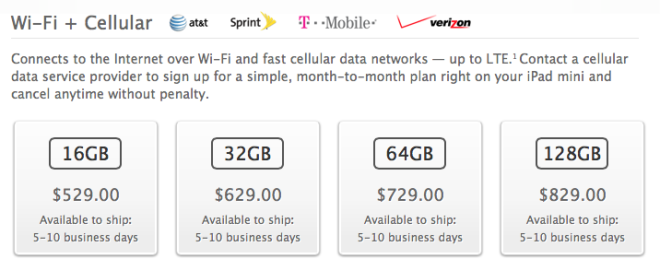 Stealthily, in the night, Apple decided to press the "launch" button and start offering the new iPad mini with Retina up for sale. We picked it up earlier on TiP, and were a little surprised that there was no press release or anything to go alongside the launch of what could be one of Apple's best tablets to date.
If you're wanting to get hold of the T-Mobile flavored cellular version, the only way to get it at time of writing is to order it from Apple.com. I had a quick root around on T-Mobile.com and the only two iPads available for sale on the "zero down" EIP offer are the iPad Air and first generation iPad mini.
Price-wise you're looking at $529 for the 16GB Wi-Fi plus cellular model, then $629, $729 and $829 for the 32, 64 and 128 GB models respectively. Shipping times aren't that hot as you'll need to wait between 5 and 10 business days for the tablet to arrive at your door. Your best bet, if you want one today, is to check stock levels at your local Apple store.
UPDATE: Apple did just post a press release. The only way to get one in store is to use the Personal Pickup service through Apple.com. Supply is very limited. 
To find out more, or to order hit Apple.com.