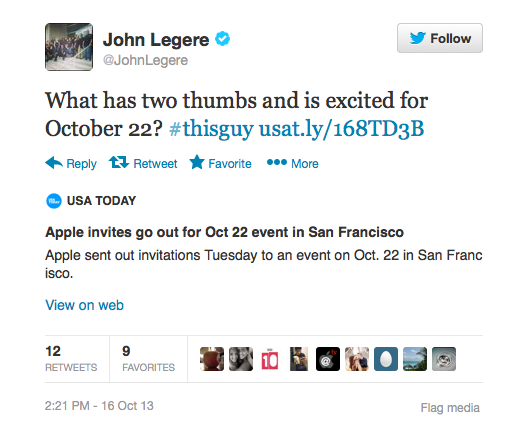 T-Mobile CEO John Legere has before hinted that more Apple products would come to the UnCarrier and a tweet this afternoon all but confirms that notion. In a brief tweet sent earlier this afternoon, Legere asked "What has two thumbs and is excited for October 22nd? #thisguy." Legere's tweet linked to a USA Today story on Apple's October 22nd event which is expected to revolve around new iPad hardware and Mac software.
As it stands today, T-Mobile is the lone national carrier that doesn't offer LTE iPads with models available on Verizon, AT&T and Sprint. Customers can use a T-Mobile SIM card on any unlocked AT&T model but without official carrier support. Any announcement between Apple and T-Mobile would allow customers to buy iPads preloaded with T-Mobile SIM cards and support for the carriers LTE network.
Apple is expected to introduce the iPad 5 and an iPad mini successor with a retina display. Other rumors include a new gold color ala the iPhone 5s along with the TouchID fingerprint sensor.