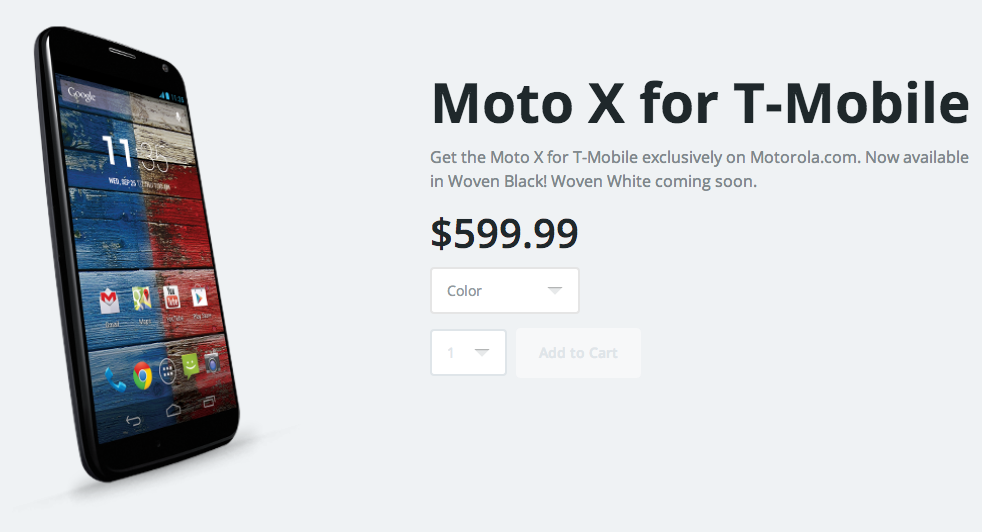 Update: Just a few minutes after this post went live, Motorola confirmed that the Moto X for T-Mobile is now officially for sale on Motorola.com. 
Moto X is now available in the US at AT&T, Sprint, U.S. Cellular, Verizon Wireless – and starting today – T-Mobile via Motorola.com. If you'd like to create a phone that's uniquely yours through Moto Maker, the design experience is currently available with AT&T.
T-Mobile's Moto X availability is still very much up in the air and with the carrier remaining silent, this order page found on Motorola.com by the folks at Android Police has us constantly hitting "F5." The listing itself says the device will be "exclusively available on Motorola.com," which contradicts an internal T-Mobile image suggesting the device would also be available through Google Play.
Regardless of where you can buy it, the $599 price tag is the same as Verizon's off-contract price and $20 higher than AT&T. There's no indicators on this page that Motorola will offer T-Mobile's Simple Choice rate plans allowing for monthly installments of the $599 price tag. This may end up being a one-shot deal, at least until T-Mobile decides to put these devices in store…though it's unclear if that will ever come to pass.
As expected, only the Woven Black and Woven White will be available to order at first, with MotoMaker design options likely arriving after AT&T's exclusive period ends.
The real question is whether the $599 price tag on the Moto X is worth the price of admission? Personally, I love the device and I would pay a big number just to have the battery life and size…however, Motorola needs to work on that camera before I can recommend throwing this kind of cash out the door. You can read my full review, including more detailed thoughts on the camera to find out why I think that's the case.