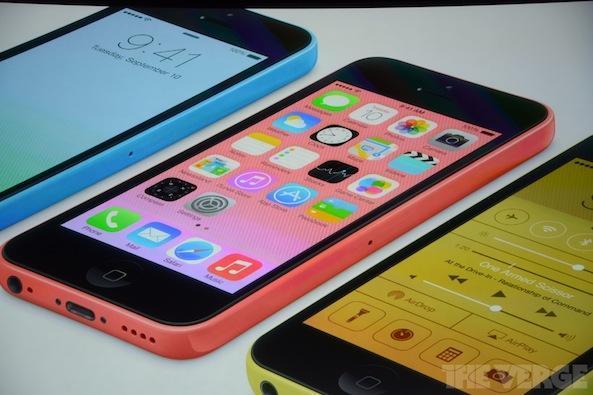 In a move that we all knew was coming thanks to a bevy of leaks in recent months, Apple has just announced the iPhone 5C and iPhone 5S. There's plenty to take in from todays announcement, including the arrival of iOS 7 on September 18th for all current iPhone 5, iPhone 4S, iPad mini and third and fourth generation iPads. An update will arrival at a later point to update the iPad 2 and iPhone 4 to iOS 7.
With the announcement still ongoing, details are arriving fast but the iPhone 5S looks very much like the iPhone 5…but you'll have new color choices. Apple is introducing the iPhone 5S in silver, space gray and gold. Add in an A7 chip as the first 64-bit smartphone, 40x bump in performance and 56x in graphics performance over the original iPhone and you've got a workhorse. The camera has been improved with f/2.2 aperture and a sensor that's 15 percent larger than the iPhone 5. You'll still be working with 8 megapixels, but each pixel is now bigger to allow for more light. There's 10fps burst mode, 120fps 720p slow-motion video mode and dual-LED flash for "true tone" images. Add in 10 hours of browsing on LTE and 10 hours of talk on 3G and you've got the iPhone 5S. Wait, one more thing…the fingerprint sensor is real and Apple will call it "Touch ID." The scanner, embedded in the home button will allow for faster logins, help prevent unauthorized access and for making purchases in iTunes.
The iPhone 5C, Apple's "don't call it cheap" will sport a 4″ retina display and the A6 processor. It has the same 8 megapixel camera as the iPhone 5, with an improved FaceTime HD camera for improved video calls. The iPhone 5C is realistically an iPhone 5 tucked away in a colored plastic shell with an improved front-facing camera, improved battery and a place one notch lower than the iPhone 5S.
T-Mobile has yet to announce pricing or availability. Though we believe September 20th is iPhone based on the blackout dates the carrier has listed.
Details are still arriving so keep checking back for more!