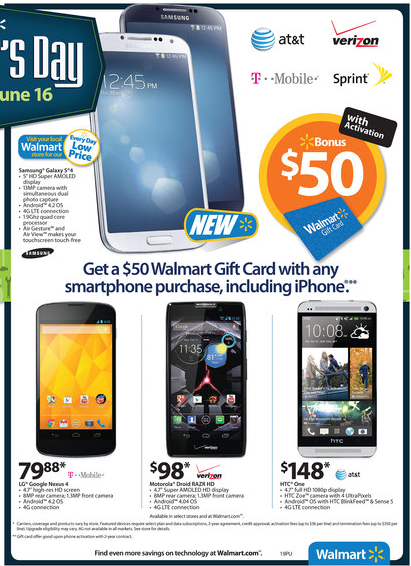 Some good news for customers looking to grab a deal on some brand new (and some older) T-Mobile smartphones at Walmart. The mega-giant-super retail company is kicking off a new promotion today offering a $50 Walmart gift-card with any two-year contract. The promotion will run from today up until Sunday, June 16th. The full list of devices that will qualify on T-Mobile for this promotion:
Samsung Galaxy S 4
Samsung Galaxy S 4G
Samsung Galaxy S III
Samsung Galaxy Note II
Samsung Galaxy S Blaze
HTC One
BlackBerry Z10
BlackBerry Q10
Nokia Lumia 521
Google Nexus 4
LG Optimus L9
Huawei Summit
All in all not a bad deal, especially when you consider pricing on these devices is generally lower than the competition. A quick reminder that Walmart, along with other nationwide retailers do not offer T-Mobile's Simple Choice Value Plans but instead offer the one-size-fits-all Classic Plan.