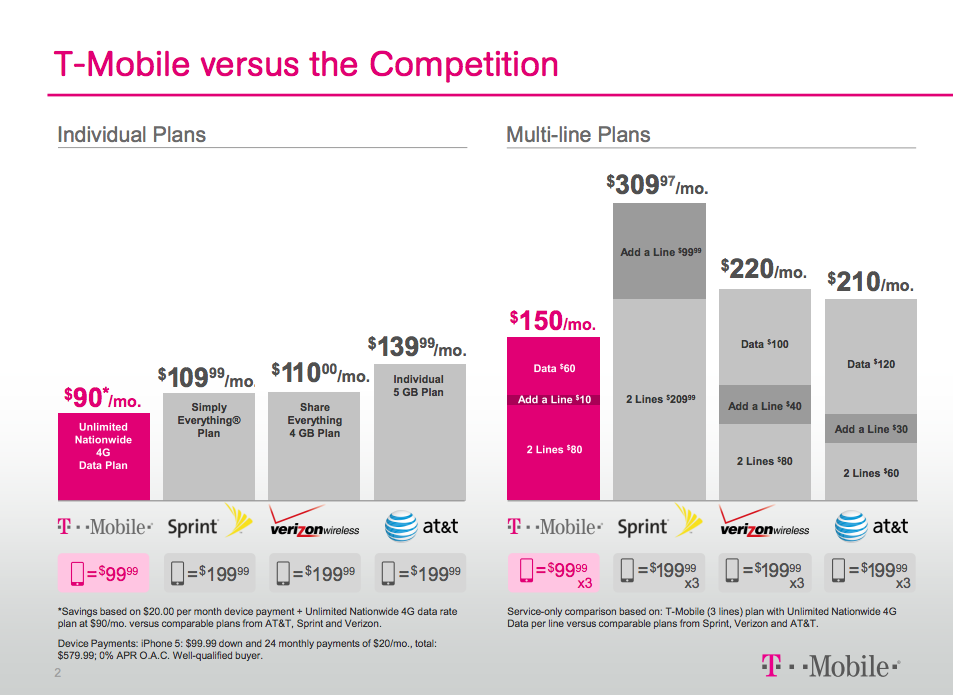 Earlier today, T-Mobile held an event to show off the new plans and payment schemes for service and phones. There weren't many surprises given all the leaks we've had in the last few weeks about T-Mobile's "Uncarrier" offering.
Like John Legere promised back in December, the new plans are very simple and pretty easy to understand once you grasp the basic concepts behind the plans. When looking at them on the website, you can see that the plans are far less complex than the traditional plans that AT&T and Sprint offer (and that Verizon used to offer). It certainly offers more than Verizon's shared plans to families for much less.
However, I've been reading many of the comments that you, the readers, have been leaving. Some of you guys appear to be less than pleased about it. A lot of you are also the same people that want T-Mobile to expand HSPA+ coverage and deploy LTE. At T-Mobile's current subscriber levels and state of business, it is not feasible to retain the previous offerings and turn a profit.
For example, the fourth quarter of 2012 was one of the more successful quarters, but T-Mobile still lost money. In fact, the total expenditures exceeded total revenues by $700 million. That's a net loss for the quarter. And T-Mobile's expenditures are going up for the next year, not down. The new plans nominally raise the base cost of the plans to help pay for these upgrades and expansions, and it simplifies the plan configuration. Most importantly, it separates the phone cost from the plan cost. This makes it easier for those bringing or buying phones separately to save money, and for T-Mobile to save money by not taking on the hit for the device.
We all want T-Mobile to upgrade its vast 2G network to HSPA+ and LTE, but T-Mobile can't do it with no money. Sure, the contract has been secured for Nokia Siemens Networks and Ericsson to upgrade the entire network, but T-Mobile has to pay for workers, labor, individual parts, and support management resulting from upgrades. All that is very expensive, and T-Mobile needs money to get it done.
That said, I think T-Mobile is being very fair with its plan changes. The vast majority of people signing up for service vastly prefer the peace of mind from having unlimited talk, text, and web plans. There's a well-known psychological effect caused by the knowledge of the possibility of overages. People will reduce their usage to ensure that overages are never incurred. By offering affordable plans that are unlimited in all the respects that people care about (while adding flexible data options for those who need it), T-Mobile is attempting to reach the widest possible audience to pull in customers to become long-term subscribers.
I'm even preparing to switch to the new plans because it is much better than my current plan configuration. Not only are the plans substantially cheaper and offer more for my money, I no longer have to worry about wasting money on a subsidy that I'm not using. Frankly, I prefer to acquire my phones without a contract, if possible. Being able to SIM-unlock and switch providers in areas where service may not be ideal is something I need to be able to do, as I visit areas where T-Mobile does not yet have HSPA+ service somewhat often.
And it isn't like T-Mobile has totally given up on its cheaper prepaid offerings. They are still available, just less prominent. The $30/mo prepaid plan options are still available, but T-Mobile is clearly pushing the more expensive plans. Additionally, the Pay-As-You-Go and the Pay-By-The-Day options are still there, though the $1/day option (which lacked data access) is gone. This reflects the reality that data is what people want. More importantly, unlimited web access is an important differentiator for T-Mobile.
In the end, I feel that T-Mobile is making the right choice by launching these new plans and purchasing options. T-Mobile will certainly experience some issues due to initial confusion on how it works, but after that is all dealt with, it will be smooth sailing from then on. These new plans truly exemplify the best value in wireless, and I'm sure that I will not be the only one to see that, going forward.