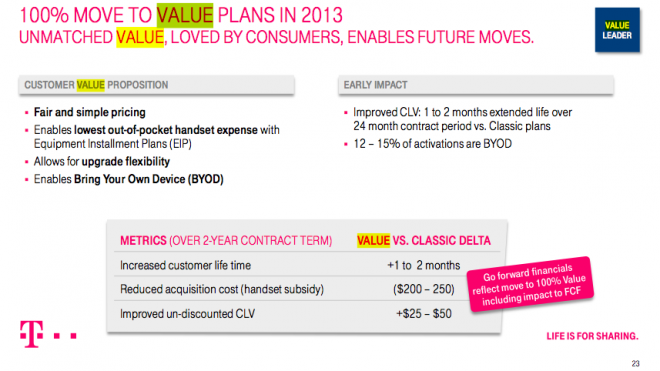 It will come as little shock or surprise that T-Mobile's competition is watching their move away from subsidies, a point reiterated by Verizon and AT&T execs in Las Vegas this week. T-Mobile may not pose a large threat to the dominant telecommunication positions of Verizon and AT&T, but it's foolish to think the latter companies wouldn't eagerly move away from subsidies. Subsidized pricing on mobile devices has long been a catch-22 for the wireless companies, providing an easy way to attract customers all while continuing to threaten slimming margins.
As carriers make upfront payments to the handset manufacturers, it hits them right in the margin and bottom line financials which results in higher monthly service fees to offset the cost. Efforts to remove subsidies has been met with varied success around the world, a warning delivered by Tracy Isacke, director of Telefonica Digital, a Spanish carrier. Isacke called their attempts to remove subsidies in early 2012 a "disaster" and warned T-Mobile to stay away.
In an interview at the Consumer Electronics Show in Las Vegas, Verizon CEO Lowell McAdam questioned whether the US wireless industry and consumers in general are ready for such a move. Regardless of the answer, McAdam said Verizon "could move to that very quickly" if the response was positive. McAdam did call T-Mobile's move a "great thing," but it remains to be seen how the market will respond.
That point was also emphasized by AT&T Mobility Chief Executive Ralph de la Vega who stated his company is watching T-Mobile's strategy unfold. De La Vega reiterated McAdam's point — that as it stands now, there is little research to support consumers want to move away from the subsidy strategy to pay less per month.
"Our research says that they [customers] don't like paying upfront for the phone," he said. "There didn't seem to be the appetite for that kind of plan."
For T-Mobile's part, Chief Marketing Officer Michael Sievert explained that most of the company's new customers already choose plans that don't include a subsidy, so they are confident in their decision. Sievert believes that when customers realize they can save money in the long run and understand how the lower cost of a device costs them more monthly, they will adopt T-Mobile's shift in strategy. "We intend to challenge some the norms in the industry," he said.