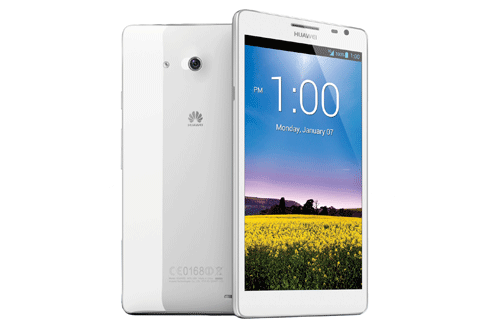 At 6.1″, the Huawei Ascend Mate takes the honors of the largest smartphone, tablet lovechild to date. Equipped with a quad-core Huawei made 1.5GHz processor, 2GB of RAM, 4050mAh battery (good for 2 full days usage) and Android 4.1 Jelly Bean. There's split-screen multitasking, and it's going to come in handy for a display that takes up 73% of the device. Here's the full spec and feature breakdown followed by a video from our own PhoneDog Taylor.
6.1-inch 1280 x 720 361ppi display (0.73 screen-to-frame ratio, higher than the 0.69 screen-to-frame ratio of the Galaxy Note II)
HiSilicon K3V3 1.5GHz quad-core processor
2GB RAM
13MP camera
Android 4.1 Jelly Bean
4050 mAh battery (22 hours and 13 minutes talk time. 14 hours of web browsing. 10 hours of video playback)
Water-resistant/Dust-resistant
Some other notable features of the Huawei Ascent Mate:
Magic Touch Display: You can interact with the screen even with gloves on. There is no longer a need for "magic" gloves. He also demo'd the magic touch display with his necktie. Touch worked flawlessly.
Guiding Wizard: An augmented reality GPS navigation app. Not entirely sure how this works. You take a picture and your phone can navigate to that location? But that wouldn't make any sense because you'd already be at that location… We'll find more about this feature later.
Smart Reading: Lets you select words and get definitions, translations, or search results instantly. Somewhat similar to the "Google Dictionary" extension on Google Chrome
Floating Windows: Similar to multi-windows for the Samsung Galaxy Note II, but with more control. You can view videos, send messages, and use other apps all at the same time.
One-Hand UI: You can adjust UI elements, such as the dial pad or keyboard, onto one side of the screen so you can easily use it with one hand.
Some other features that you'll find on your future Huawei device:
Fast Charging: Huawei has patented technology that gives their smartphones 30% more power savings compared to their competitor's smartphones. Phones also charge much faster than the competition. The Ascend D2 charged 25% faster than the Samsung Galaxy S III despite it have a 40% larger battery.
Swift Sharing: Huawei's smartphones come equipped with dual WiFi receivers, which gives these devices up to 150Mbps transfer rates.
Stereo Recording: Huawei's smartphones have dual microphones to allow stereo recording. The Huawei smartphones can pick up clear conversation even from 1.5 meters away, which Huawei dubs as "super hands-free".
Emotion UI: Huawei's attempt to make smartphones "intelligent phones". There are over 100 themes. Gallery mode has face recognition and smart sharing for photos. Claims to fix over 200 problems in the Android UI. It's very user-friendly.
In an effort to capture a portion of the smartphone market, Huawei announced they will drop feature phones and focus solely on smartphones. Devices like the Ascend Mate are Huawei's idea of creating an "all-in-one" device that replaces your phone, tablet and even your computer. Huawei will initially launch the Mate in China this month, with other markets beginning in March. If you are willing to stomach the unlocked price of importing an unlocked smartphone, this device is ready for both 1700 and 1900 3G/4G on T-Mobile. HSPA+ 21Mbps only.
If the Galaxy Note II isn't big enough for your purposes, will the Huawei Ascend Mate be your smartphone/tablet fantasy?