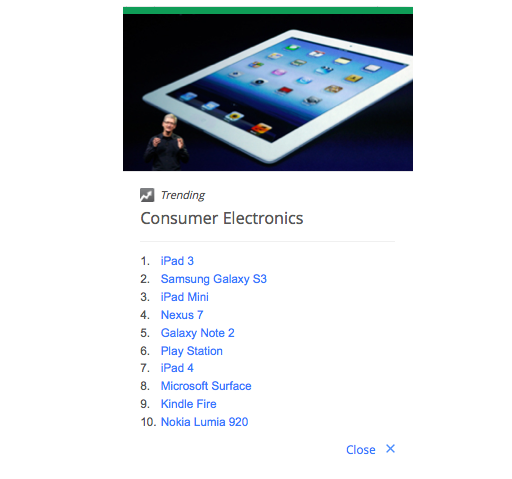 As 2012 winds down, Google releases its Zeitgeist report reminding us of all the fantastic events, searches, news and happenings that took place during the year. That's all well and good, but we're a technology site so we care about the tech and geeky stuff. So how about those top 10 Tech Gadgets, Phones and Consumer Electronics?
Fans of the Galaxy S III and Galaxy Note II have plenty to cheer about as both devices find themselves near the top of all three lists with that fruity company holding down the number one place all around. For overall Consumer Electronics, the Galaxy S III grabbed the number 2 spot with the Galaxy Note II landing at number 5. The Nexus 7 made an appearance on the list at number 4 as the top searched Android tablet of 2012.
For Phones, it's a little more of the same as the Galaxy S III lands in at number 3 with the Galaxy Note II holding down the number five-spot. Interestingly enough, with all the handset releases this year it's the Blackberry Bold and Blackberry Curve that land in the number 6 and number 7 positions. Something about that just feels very wrong, given the sheer volume of high-profile handset launches from HTC that don't appear anywhere on this list.
As we turn to Tech Gadgets, we once again welcome the Galaxy S III at the number 3 spot, the Nexus 7 at the number 5 spot and the Galaxy Note II at number 7. Even the Galaxy S II makes an appearance at number 8 so we're glad to see it's staying relevant.
As a bonus, you should absolutely watch Google's 2012 Zeitgeist year in review video and remember back to 2011 when the Sidekick 4G sat at number 3 on the Consumer Electronic list.
Google Zeitgeist Year In Review, Phones And Tech Gadgets