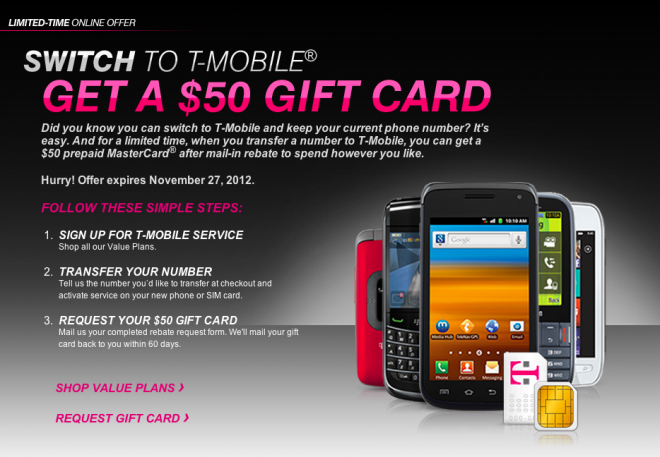 T-Mobile is certainly making every effort to increase their Value Plan sign-ups as a new promotions a $50 MasterCard Gift Card for signing up with new service. The offer begins today, October 29th and runs through November 27th and requires a brand new T-Mobile account, and transferring your number from another carrier.
The full details including all the terms and conditions follow:
Did you know you can switch to T-Mobile and keep your current phone number? It's easy. And for a limited time, when you transfer a number to T-Mobile, you can get a $50 prepaid MasterCard® after mail-in rebate to spend however you like

Hurry! Offer expires November 27, 2012.

FOLLOW THESE SIMPLE STEPS:

SIGN UP FOR T-MOBILE SERVICE
Shop all our Value Plans.
TRANSFER YOUR NUMBER
Tell us the number you'd like to transfer at checkout and activate service on your new phone or SIM card.
REQUEST YOUR $50 GIFT CARD
Mail us your completed rebate request form. We'll mail your gift card back to you within 60 days.

Offer expires 11/27/2012; subject to change. Participating locations only. Phone purchase, activation of qualifying Value Plan, and transfer of phone number from a qualifying wireless carrier during the period from 10/29/12-11/27/12 required. Must remain active and in good standing at time rebate is processed. Rebate provided in the form of a prepaid Mastercard payment card. Allow 6-8 weeks for processing. See rebate form for details. General Terms: Domestic only. Credit approval, $35 activation fee/line, deposit and qualifying Value Plan on two-year contract (with up to $200/line early cancellation fee) may be required. Coverage: not available everywhere. Network Management: Data traffic of Premium and Ultra Plans will be prioritized over other currently offered plans during periods of congestion. Service may be limited or terminated for misuse, abnormal usage or significant roaming. See terms and conditions for additional information. T-Mobile and the magenta color are registered trademarks of Deutsche Telekom AG. ©2012 T-Mobile USA, Inc.