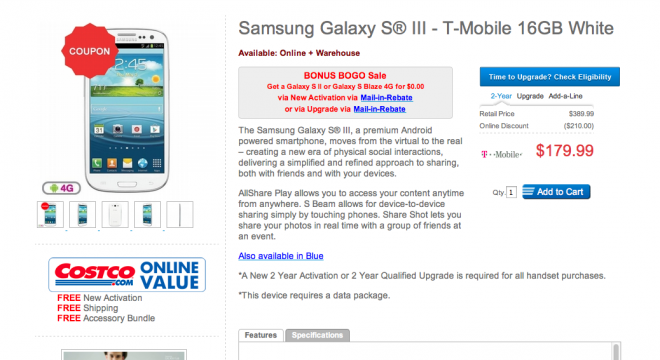 Looking for a deal on the Galaxy S III? Of course you are, well if you're a Costco member than you should really head over to Costco.com and take a look at the $179.99 pricing for both new and qualifying upgrade customers. Oh, but that's not all. Along with your Galaxy S III purchase, Costco is offering a Buy One, Get One sale on the Galaxy S II or Galaxy S Blaze 4G along with your purchase of the Galaxy S III.
Let's just clarify that so there isn't any confusion: with the purchase of a Galaxy S III, you can receive a bonus Galaxy S II or Galaxy S Blaze 4G with the activation of another line or upgrade after mail-in rebate.
No telling how long this deal lasts, so don't pass it up!