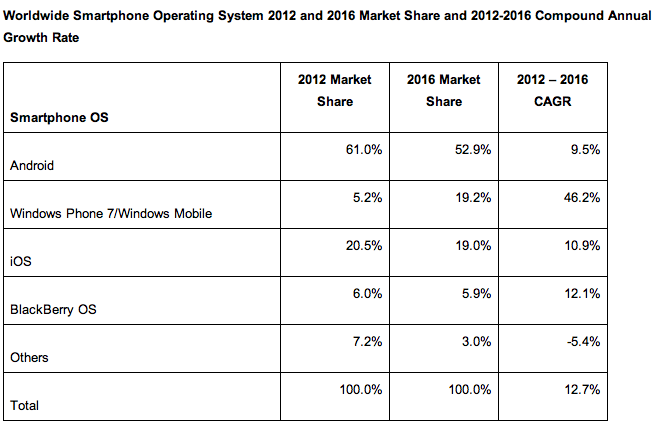 So, here's a bit of a doozy for all you Android fans out there enjoying the meteoric rise of your favorite operating system — the growth won't last. Well, not only will it not last, it will peak in 2012 and then begin to make way for Windows Phone. According to market research firm IDC's Worldwide Quarterly Mobile Phone Tracker report, what goes up, must also come down. The report solidifies Android as the world's top smartphone OS, but not without a bumpy road ahead.
The IDC report sees 2012 as the beginning of a major shift in smartphone sales, now dominated by Android and iOS. However, during the five-year period between 2012 and 2016, the IDC sees Android's share of the global smartphone market dipping from 61% to 52.9%, iOS from 20.5% to 19% and here's the kicker, Windows Phone will balloon from 5.2% in 2012 to 19.2% in 2016, passing iOS as the number two smartphone platform in the world.
"Underpinning the smartphone market is the constantly shifting OS landscape," IDC analyst Ramon Llamas said. "Android will maintain leadership throughout our forecast, while others will gain more mobile operator partnerships (Apple) or currently find themselves in the midst of a major transition (BlackBerry and Windows Phone/Windows Mobile). What remains to be seen is how these different operating systems – as well as others – will define and shape the user experience beyond what we see today in order to attract new customers and encourage replacements."
As for RIM, the IDC report expects their smartphone market share toremain relatively flat, moving from 6% in 2012 to 5.9% in 2016. Unfortunately, I'm not even sure RIM will be around in 2016, never-mind how much market share their Blackberry platform will still hold.
We should mention that this now the second time the IDC has reported a big rise for Windows Phone, the first happening in March of 2011. It appears that while Windows Phone and their partnership with Nokia have struggled to gain a significant foothold in any market, the IDC's position on Windows Phone growth will not be deterred.
While any number of factors can and will influence the numbers in this report, especially as we could see another OS jump into the market and find immediate success, or a competitor such as RIM could exit the market completely along with other mitigating factors that could alter the shape of the 2016 market landscape. Still, for right now we can count on Android and Apple to dominate the smartphone market without any viable competitor capable of knocking them down.