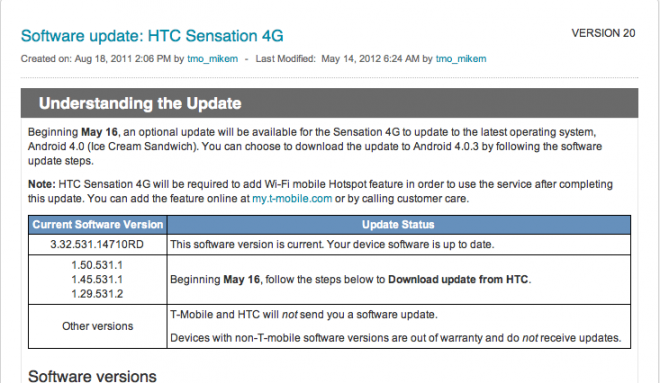 Tomorrows upgrade of the HTC Sensation 4G to Ice Cream Sandwich ends a lengthy and often frustrating wait for owners of the much-loved T-Mobile smartphone. Sensation 4G owners should be aware of one warning before going through with tomorrows upgrade: the end of the T-Mobile's (unofficially) free tethering plan. A T-Mobile representative told PCMag the company will begin enforcing it's $15 per month wireless hotspot plan.
T-Mobile has always officially charged $15 for the hotspot access plan however, users were often given a free pass the company leading many to question what official company policy truly was.
"T-Mobile began offering a Smartphone Mobile Hotspot plan in November 2010. However, due to technical limitations with software, customers were not being charged for the feature on select T-Mobile products," a T-Mobile representative said. "Customers who choose to upgrade their HTC Sensation 4G to the optional Android 4.0 (ICS) software update will be required to sign up for the $14.99 Smartphone Mobile Hotspot plan."
T-Mobile emphasizes that the Android 4.0 Ice Cream Sandwich update itself is free, only that the hotspot feature will cost extra. A disappointment to be certain, but all good things have to come to an end.