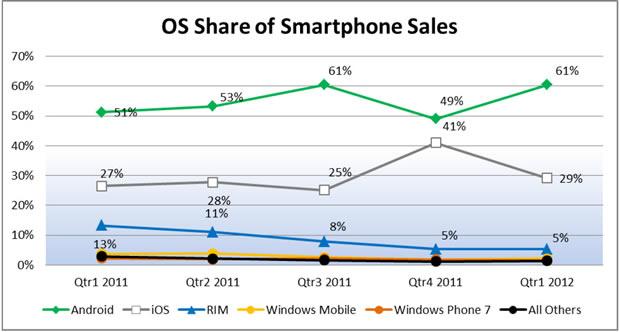 Android is making its move to reclaim market share lost over the holidays as it jumps to 61%, a big jump over the 49% recorded in the fourth quarter of 2011. One the flip side, iOS dropped down to 29% market share, down from close to 41% it held during the last quarter of 2011. Apple's typical holiday surges are a result of heavy demand for the iPhone 4S as customers rush to grab Apple's newest smartphone during the holiday season. Given the release of todays numbers, Android has crawled its way to the same market share numbers it held during the third quarter of 2011.
As it stands now, Apple and Android now hold 90% of total smartphone market sales in the U.S. However, smartphones themselves failed to grab any further traction as a percentage of total mobile phone sales grabbing just 66% of all handset sales in the last quarter of 2011.
As we look at the total smartphone market, Android continues to stay the US smartphone king with 48% total market share against Apple's 32%.