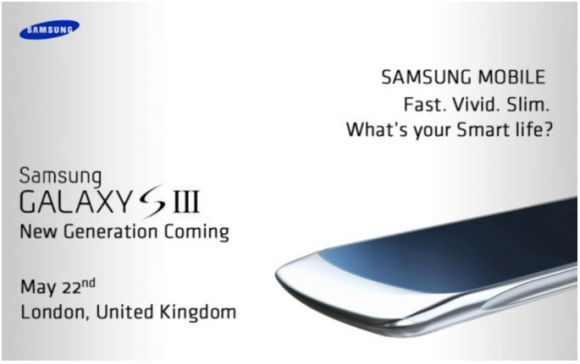 Let's just call this image as we see it…another fake render making headlines across the internets as we eagerly await official word from Samsung. This marks the fourth "render" in as many weeks showing off what is believed to be the potential Galaxy S II successor. Todays image is definitely the most interesting of all the alleged fakes that have surfaced over the past four weeks with sleek lines and a chrome looking finish.
Notorious smartphone tipster Eldar Murtazin, who claims to be holding a Galaxy S III commented on the photo with noticeably vague wording: "My comment about this sgs3 pic….hmmm no comments :-) what do you think? Real or fake?"  Murtazin is a well connected tipster and his words are often taken at face value so these aren't comments we recommend dismissing, though interpreting them is something we're still trying to figure out.
For now, we'll keep an eye on May 22nd as a possible, maybe potential launch day for the Galaxy S III by Samsung however, we're still eyeing this picture with skeptical eyes.