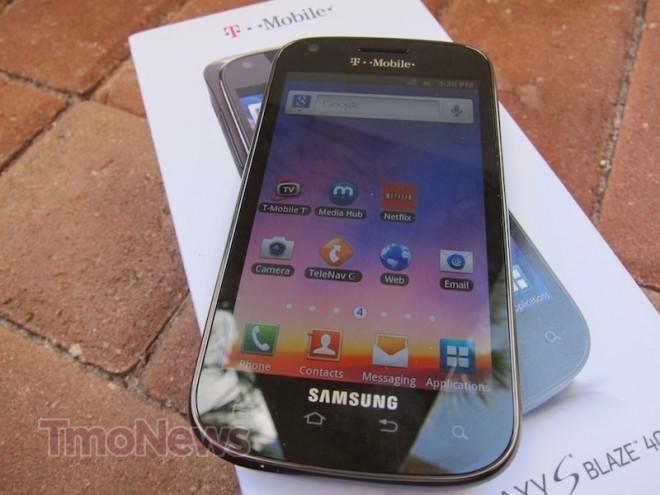 Editors Note: Quick note, I have been unable to get the images off the Blaze 4G due to some unforeseen issues, like leaving the phone at my in-laws. I'll update this post tomorrow with pictures and video taken from the phone itself! Sorry about that!
We'll get this right out of the way and touch on the idea that many of you have already written off the Galaxy S Blaze 4G as a cheaper, smaller clone of Galaxy S II. In part, you'd be right. It is very much like the Galaxy S II, especially when you hear the "Galaxy S" part of the name. The thing is this is a different phone even if you would be hard pressed to tell them apart save for the size of the actual hardware.
The Blaze 4G consistently put out faster HSPA+ speeds than any other phone I could find in T-Mobile's lineup. My tests are hardly scientific as they have been limited to a 25-mile geographic area so I wouldn't by any means call them concrete results. Still, the Galaxy S Blaze 4G may feel like a Galaxy S II clone right off the bat, but as you use it, it establishes its own identity as part of the Galaxy S line.
Specifications: 
3.97″ Super AMOLED display
480×800 resolution
5 Megapixel rear camera and flash
1.3 Megapixel front-facing camera
4.79 x 2.48 x .44 inches
1GB RAM
4GB MicroSD in box
4.5 ounces
Up to 7-hour talk time
Up to 230 hours standby time
Pros:
Ergonomically wonderful in the hand
Fastest HSPA+ speeds I've ever seen
Colors pop on screen, even in times of low brightness
NFC radio
Good battery life
Cons: 
From the back it looks like a Blackberry
Has to stand-out against the Galaxy S II
A 2012 Android launch without 2012 Android software
Lots of pre-loaded junk
Did I mention older version of Android?
Hardware: 
If you're looking for an Android device with an inspiring and refreshing hardware design, the Galaxy S Blaze 4G (henceforth known as Blaze) isn't the phone for you. It's bland. It looks like a Blackberry from behind and did I mention it's bland? Still, the hardware feels great in your hand with curves in all the right places so it has that going for it. I can't get over how much it looks like a Blackberry from the back though and it's bugging me. This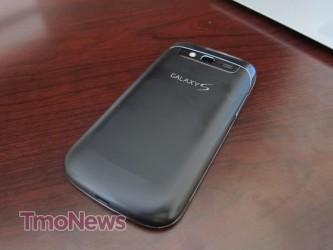 is, by all accounts, a mid-range smartphone and yet I'm completely ok with that. The Blaze 4G has a 3.97″ Super AMOLED display at 480×800 resolution and if you're coming from a qHD or 720p display, it's not something you're going to like. However, it's plenty usable, even in low brightness, and it's the same display as the Galaxy S II.
Below the screen rest four capacitive buttons in the menu-home-back-search configuration that is standard for Android handsets. Resting right below the earpiece sits the T-Mobile logo. The rest of the phone is pretty standard as well. The power button and volume rocker sit exactly where you'd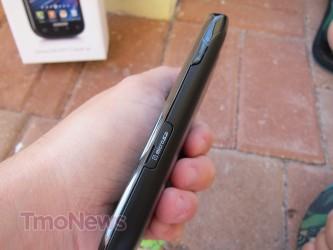 expect on the right and left sides of the device. A 3.5mm headphone jack rests up top (someone please move these to the bottom) and the microUSB port sits at the bottom of the device. The microSD card is thankfully accessible externally and no removing the battery cover here, folks!
The textured plastic battery cover feels nice in the hand and it's got a "grippy-ish" feel I like and it is again very similar to the Galaxy S II. The 5 megapixel camera adorns the back of the phone along with a camera flash and speaker. If you open up the battery cover, you've got a 1750mAh battery and the SIM card holder.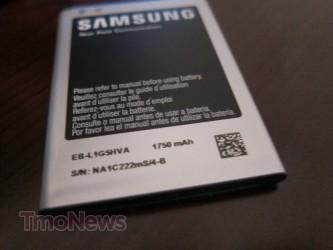 I may or may not be in the minority saying this, but it was refreshing using the Blaze 4G hardware. It's a great feeling device. The industry seems to be in a state of mind now that bigger is better and while I've gotten used to the Galaxy S II 4.5″ display, I still don't like it. I'm much more comfortable with my 3.5″ iPhone 4S, but the 3.97″ display on the Blaze 4G felt surprisingly good to use. The hardware buttons feel solid and the four capacitive buttons run without any lag.
The Blaze 4G is powered by a 1.5GHz dual-core Qualcomm Snapdragon S3 processor coupled with 1GB of RAM. The response performance on the Blaze 4G is great. Whether it's scrolling through your home screens, menus or opening and running a multitude of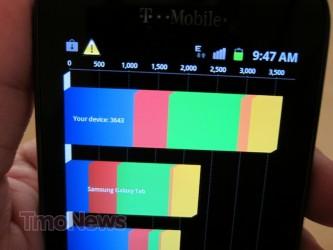 apps, the performance of the phone is great. The quadrant score will back up our claims of almost no lag with scores averaging right around 3600. Scrolling and performance while browsing the web was equally satisfactory — I'd even go so far to say that this is the best performing mid-range smartphone I've used on T-Mobile in some time.
If we go back to the display for a minute, I feel compelled to say that the 480×800 Super AMOLED display is nice but not as impressive as it was a year ago. Colors do pop brightly and that's supported by the incredibly colorful TouchWiz skin which places icons of different colors all over the home screen.
For the price, $149.99, the Blaze 4G screen is more than acceptable, but we're longing for more these days and I suspect you will too. Don't get me wrong though. For a mid-range device, this is still a great display, if not anything you'll run right out and show your friends.
Software: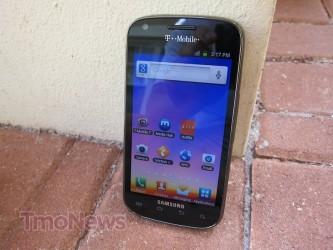 If there is one reason to be disappointed with the Blaze 4G right out of the box, it's the disappointment that it's launching with Android 2.3.6 (and TouchWiz).
T-Mobile has promised Ice Cream Sandwich is coming down the line, but it's disappointing overall to see any Android phone launching in 2012 without the 2012 Android version. As for TouchWiz, it remains a love it or hate experience, though it still feels a lot lighter to run than HTC Sense. As for those colorful icons I mentioned earlier that help you judge the quality of the screen, maybe Samsung can tone those down a bit.
One aspect of the Blaze 4G that really had me angry was the mountainous volume of pre-loaded software as T-Mobile clearly didn't even attempt to restrain itself from watering down this smartphone with pre-loaded applications. We've got 411 & More, AllShare, Game Base, MobileLife Organizer, More for Me, Netflix, Slacker, T-Mobile Mall, T-Mobile Name ID, T-Mobile TV, T-Mobile Video Chat, Telenav GPS Navigation, Kies Air,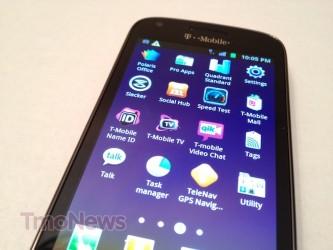 Media Hub, Polaris Office, Pro Apps, Visual Voicemail, Yelp, Zinio and that's just naming the ones I can in the menu. Don't get me started on pages 2, 5 and 6 widgets. Ok, so some of those apps are from Samsung, but at least those apps add some functionality. I know T-Mobile wants to push T-Mobile TV. They made that clear right from our meeting at CES and it's a fun feature to have, but I can't get over the sheer volume of pre-loaded "crap" on the Blaze 4G.
You've got seven home screens for apps, widgets and stuff and they are pretty well loaded with all the aforementioned apps. The main apps are laid out in an alphabetical grid by default holding 16 apps and are accessed sliding the screen left or right. You can, of course, rearrange the apps or choose to view them as a single list.
Even with all the pre-loaded software T-Mobile and Samsung have installed, there are add-ons worth having: Swype keyboard, T-Mobile's Wi-Fi calling and Hotspot functionality and Google's Tag app (NFC related) that are all welcome additions to the Blaze 4G.
Short of actually rooting, hacking and/or tweaking your phone, you're pretty much stuck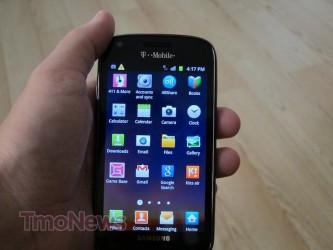 with a lot of the pre-installed bloatware. That sucks. T-Mobile, Samsung and the rest of their carrier and manufacturer brethren need to take a long, hard look at the mountainous volume of crapware they've started installing on our smartphones. While we're already forced to give them a pass for launching a phone in the third month of 2012 running software that is already a year and a half old, we're forced to run older software inundated with a bunch of stuff nobody really wants or needs.
HSPA+: 
I wanted to appoint a special part of this review to the HSPA+ speeds I've received while using this device in and around the Palm Beach and Broward County area of South Florida. If you haven't caught my tweets, special post or talked to me via email or gTalk, you'll know I'm more than impressed with this phone and its HSPA+ capability. I'm honestly wowed at how fast I've been able to not only surf the web or downloaded app updates — there is no question this is the fastest phone I've ever used on T-Mobile. The Galaxy S II review showed that I was averaging speeds around the 6-15Mbps range. This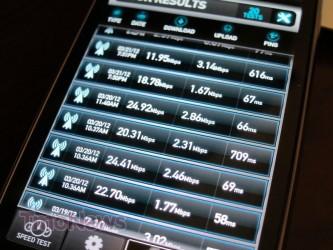 time around, if I've hit below 15, I've been disappointed. The funny thing is that my speeds were by and large faster during the day when one might think the network is more likely to be bogged down than at night when my speeds were somewhat slower. Hitting 20+ Mbps became par for the course and while I emphasize that your mileage may vary in terms of results, for me this was the best I've ever seen on T-Mobile's network.
Camera: 
The Blaze 4G has a 5 megapixel rear camera and a 1.3 megapixel front-facing camera and both perform on par with the rest of the Galaxy S lineup. The Blaze 4G won't introduce any new features or functions to the Samsung camera software and Samsung's extensive lineup of camera extras remains intact. Focusing is fast, but you're still forced to push the shutter button to actually take a picture. The camera is a wee bit slow to take a picture, store the image and then set you up for the next shot. Perhaps I'm spoiled from watching videos of the upcoming HTC One S, but HTC clearly seems to be winning the camera speed war. That's not to say the extra moment it takes to focus again isn't worth it. It is, but set your expectations for a mid-range smartphone.
In the bright sun, colors can be a little over-saturated, but we're still content with the images that were produced. For outdoor scenery images, the Blaze 4G delivers pleasant to look at visuals, though low-light conditions, an area where mid-range smartphones are typically weak, did see the Blaze 4G falter some.
Video recording in 720 isn't all that impressive. It's a little soft on the detail side of things. It isn't awful by any means and you can do a lot worse, but if video quality is what you are after, you may want to look elsewhere.
The stock Android 2.3 photo gallery is where you'll find your images, stored on floating stacks based on date. The view of the gallery can be switched to a timeline if you wish. The gallery does excel at editing photos with support for effects, color, brightness, cropping, rotating , etc. The ability to share through MMS, email and social networks is included.
All in all, the Blaze 4G isn't horrible. It certainly appears to be better than the Galaxy Nexus, but that's not to say this is the right phone for camera aficionados. It gets the job done well, but you'll certainly want to look at the higher end smartphones for higher end results.
Call Quality and Battery: 
Call quality on T-Mobile's network was fine. The speaker was loud and clarity on both speaker and regular audio calls were very good. I didn't recognize much of a difference between the Galaxy S II call quality and the Blaze 4G. I did notice a number of alternative reviews reported opposite findings with the volume output of the speaker and earpiece, so I'm not sure if I have more sensitive hearing or simply got a better review unit. The Blaze 4G did hold a solid connection to T-Mobile's 4G network, though there were a few random times it dropped to EDGE for no reason I could decipher. As soon as I reached to do something with the device, the 4G would kick back in which is all I really care about. Personally, I'd love a "smart" smartphone that drops to EDGE when it's not in use and comes right back to 4G when necessary.
The 1750mAh battery helped us get through an entire day's worth of browsing, emailing, texting, Tweeting along with about 60 minutes of voice calls. That's fairly heavy use by smartphone standards and I wasn't reaching for a charger until bedtime, so that's good news. In my eyes, the ability to get through a single day with a smartphone these days without reaching for a charger anytime after lunch is worthy of praise.
Conclusion: 
The Galaxy S Blaze 4G proves that mid-range devices can still offer a compelling reason to get on board T-Mobile's HSPA+ 42Mbps lineup without paying for the highest-end device sold. I had low expectations with the Blaze 4G since I was expecting a Samsung Exhibit II 4G by a different name and I came away surprised. The Blaze 4G is perfect for those who want to truly take advantage of T-Mobile's fastest speeds without sacrificing size or price. It's compact and comfortable to use, the screen is as good as you can get in the price range and it's got enough going for it to help carry the same Galaxy S name as its sibling, the Galaxy S II.
Anyone looking for their first Android smartphone would be very well served checking out the Blaze 4G.  You really can't go wrong for the price. It's certainly worth pushing above that $100 mark that seems to really distinguish the good and bad smartphones these days.
If this phone launched in the middle of 2011, it would have been a runaway hit. Even now, it's still a mid-range phone that has high-end aspirations and that's a great thing.