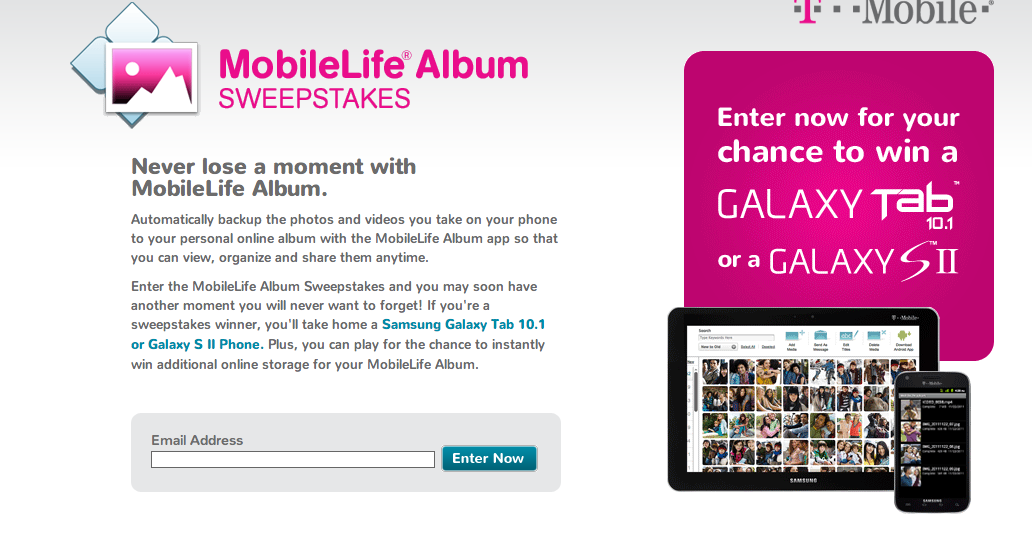 Are you worried about backing up your photos? Are you worried about losing all of your photos if you lose your phone? Well, fret not T-Mobile customers as the MobileLife Album sweepstakes hopes to (re)introduce you to T-Mobile's MobileLife Album platform, not to mention a chance to win a Samsung Galaxy S II or Samsung Galaxy Tab 10.1. T-Mobile's MobileLife Album will backup your photos and videos to a personal online album with the MobileLife Album app allowing you to view, organize and share them anytime.
To receive a sweepstakes entry: To receive a Sweepstakes entry, follow the links and instructions to upload a photo to your MobileLife Album. You can upload a photo through your T-Mobile online account, or you can download the free MobileLife Album app and upload a photo through your mobile phone. Message and data rates apply. After you upload your photo you will receive one (1) Sweepstakes entry.
Guidelines:
The photo must be in .jpg format;
The photo file must not exceed 5 MB in size;
The photo cannot have been submitted previously in a promotion of any kind, published, posted, exhibited or displayed publicly by any means
The promotion began March 1st at 12am and runs through April 1st, 2012 at 11:59p.m. ET.
To enter just click the http://tmobile.promo.eprize.com/albumsweepstakes url and complete the registration form. What do you have to lose? Certainly not your pictures.