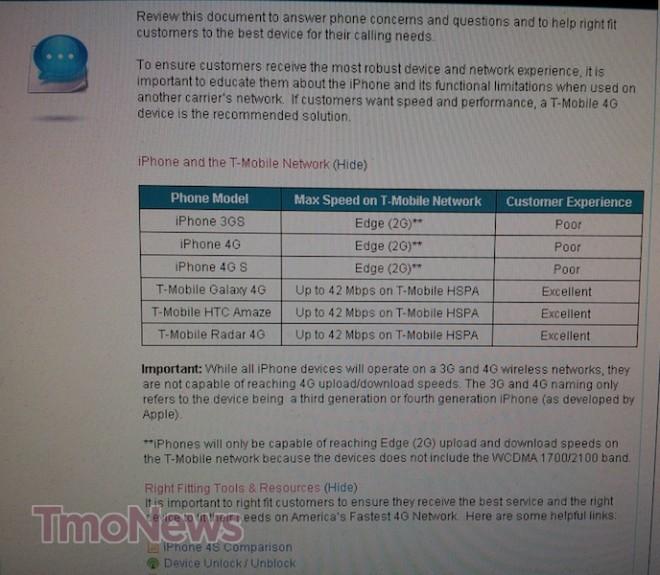 Update: Some of you have noted that the 3G/4G moniker refers only to the generation of the phone as manufactured by Apple. We could argue that is incorrect as the first model was the iPhone 2G, the second model was the 3G, the third model was the 3GS etc. I think it could be argued that Apple chose a naming convention based on the speed of the hardware, not the model generation.
First of all, let's highlight one thing about this document, it's the iPhone 4 and 4S.  We will take note however of the presence of the "T-Mobile Galaxy 4G," which we can safely assume is in fact the Galaxy S Blaze 4G.
All that aside, it's an interesting look at how T-Mobile plans to "educate" customers on the advantage of their 4G Android smartphones against the EDGE-only capability of the iPhone. I'm a little disappointed that T-Mobile is using documents like this without mentioning they have one million plus iPhone subscribers on the network who clearly aren't concerned about the EDGE-only option.
"By right-fitting customers to a T-Mobile 4G device you are freeing them from being stuck in the 2G slow lane with an iPhone."
I get that, I do, in fact I'm one of the customers this document is arguing against. I'm an unlocked iPhone 4S user on T-Mobile — granted I use a number of devices but my fallback is generally my 4S. I just think that calling the experience of over one million customers "poor" is a little non-specific. I don't find my experience poor, I find my experience limited, but I knew that the moment I decided to activate an iPhone on T-Mobile. I'm still a happy T-Mobile customer.
That being said, the document is right in saying I will have a better network experience with an Android 4G phone…I don't think that is in dispute. I also appreciate T-Mobile's concern with educating the customer about the "less-than-spectacular experience" one will receive using the iPhone on T-Mobile.
I just hope this "issue" is put to rest later this year with an actual iPhone for T-Mobile launch. Whatever your OS of choice, I stand by my assertion that T-Mobile should have all the options.