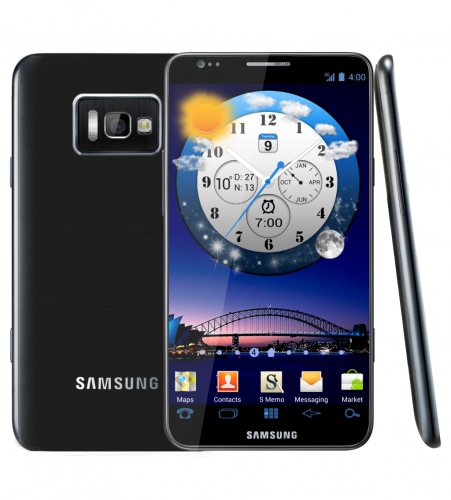 If you're taking a pass on the Galaxy S II and you aren't interested in picking up an unlocked Galaxy Nexus, perhaps you should set your sights on the Galaxy S III now said to be unveiled in February at Mobile World Congress. ETNews is reporting that Samsung will introduce the latest in its Galaxy S line in Barcelona, one year after it unveiled the Galaxy S II. The Galaxy S III is expected to feature new quad-core processor technology and may include 3D technology as Samsung looks for new ways to differentiate it's smartphone line from the pack.
Other rumored features include a 1280 x 720 Super AMOLED Plus HD display, Android 4.0 Ice Cream Sandwich, 12 megapixel camera and 2GB of RAM. Clearly these specs are all rumored for the moment and as such should be taken with plenty of grains of salt. Still, the prospect of this Android superphone is quite exciting and we can't wait for February to see what Samsung has in store.
TheNextWeb via ETNews
P.S. The above image is a mockup that has floated around these past few days as one possible direction Samsung could take with the Galaxy S III design. We just hope Samsung doesn't leave out their famous "hump" as it's become synonymous with their Galaxy S line.