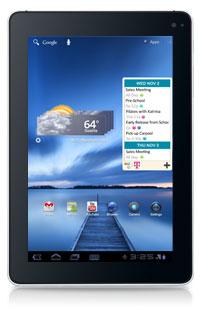 Tucked away inside last nights midnight press release for the Galaxy Tab 7.0 Plus was the news that the T-Mobile Springboard would arrive on November 16th for $179.99 after a $50 mail-in-rebate. Remember that extra little pricing catch though:
Beginning Nov. 16, customers can purchase the T-Mobile SpringBoard for a $179.99 down payment at T-Mobile retail stores. The Springboard requires a $50 mail-in rebate, with a T-Mobile Value Mobile Broadband plan, two-year service agreement, and 20 interest free monthly payments of $10 on approved credit. Overage-free Mobile Broadband Value plans start at $29.99 per month, and T-Mobile postpaid voice customers enjoy $10 off their monthly mobile broadband service. For more information, visit http://mobile-broadband.t-mobile.com/tablets.

Editors note: In other words, the $179.99 is a "down payment" with the 20 monthly $10 payments making your final cost of $380 which includes T-Mobile's $50 mail-in-rebate.
So the Tablet is cheap, cheap, cheap. What exactly do you get for a tablet priced at $179.99? Let's check some reviews across the web and find out:
The T-Mobile SpringBoard provides a terrific high-resolution screen, and it's a good choice if you want a connected 7-inch Android tablet. That said, I could more easily recommend this product at its $380 (with rebate) all-in price if it didn't have a two-year commitment behind it, or a convoluted payment scheme (even if you can upgrade sooner, you'd have to finish paying the device's monthly installments).
CNET:
Of course, you'll end up paying more than $180 in the long run if under contract, but that initial price does make it appealing. The high-quality screen, 16GB of storage, great build quality, and the inclusion of the latest version of Honeycomb sweetens the deal. The SpringBoard is one of the best 7-inch tablets out there, and if you have the money to go in with no contract, rest assured that you're getting a quality product. If you don't have the funds, I still can't recommend committing to two years, however.
The Huawei MediaPad — make that the T-Mobile Springboard — is a very nice tablet. Before unleashing the world's umpteenth Honeycomb tablet, Huawei made sure it was speedy, well-built and longevous, with a high-quality IPS display and halfway decent camera thrown in for good measure. T-Mobile's reliable HSPA+ network is also a pleasant surprise, though we probably would have liked this tab even without that added perk. If it were us, we'd buy it for $430 off contract and avail ourselves of the pay-as-you-go plans on the rare occasion we planned on traveling and didn't think our smartphones would suffice for web surfing, checking email and a little movie watching.
I've had plenty of time to toy around with this tablet and so far I'm pretty confident that most users will appreciate what it has to offer. If a larger 10? tablet isn't ideal or portable enough for you, but you need the 4G data connectivity — consider the T-Mobile Springboard. With a small and portable 7? form factor that also manages to pack plenty of punch with a dual-core processor you wont be disappointed. Compared to other 7? tablets on the market this is by far one of the best choices.
The T-Mobile Springboard provides a full Android Honeycomb experience with tons of apps and speedy 4G data in a lightweight 7-inch package. Just don't be fooled by the $179 up-front price, which at first seems cheaper than the $199 Kindle Fire. Over time you'll be paying $379 for this tablet, plus at least $19.99 per month for data. Another drawback is this tablet's less-than-stellar battery life. Overall, the T-Mobile Springboard is a solid choice for shoppers who want an attractive and portable multimedia Android slate, but you'll want to make sure you really need 4G connectivity before signing up.