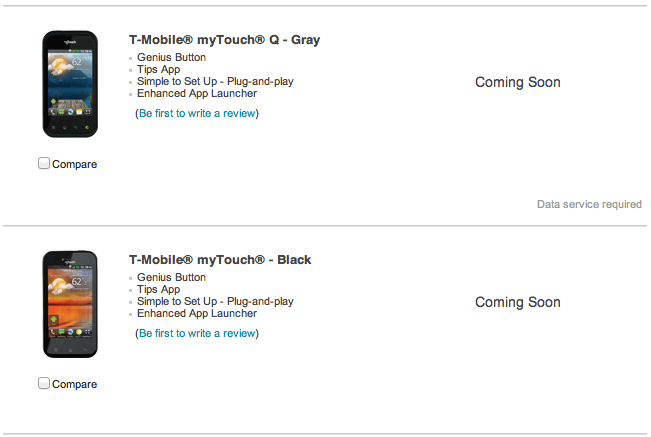 On the heels of our October/early November roadmap leak is the discovery that T-Mobile has posted the upcoming myTouch by LG devices online as "coming soon."
First up is the T-Mobile myTouch Black which is the touchscreen only myTouch by LG version launching on T-Mobile November 2nd. T-Mobile's website doesn't provide a lengthy list of specs but we do learn the the myTouch Black has a 1GHz processor, 5 megapixel camera and while no front camera is listed there appears to be one in the image of the front of the device. T-Mobile's website also lists 4G speeds capable of 42Mbps whereas our leaked roadmap from last night indicates these devices are only 3G capable. Considering the mid-tier devices both of these myTouch devices are said to be, we wonder if T-Mobile posted generic specs and that neither of devices are capable of 4G speeds. Anyone looking to buy this phone on the hope it will have the same 4G capability as the HTC Amaze 4G or Samsung Galaxy S II would behoove themselves to wait for an official announcement to see what the actual speeds are.
The T-Mobile myTouch Q Gray leads us to believe that there will be more than one color offering since T-Mobile.com indicates a particular color variant which is typically done when more than model is offered. The spec listing appears to be the exact same as the T-Mobile myTouch Black which either further validates our suspicion that these are generic specs being used as a placeholder or both phones are the exact same minus the keyboard. There is one interesting note in regards to the keyboard as the myTouch Q Gray 'features' section states that the "large QWERTY keyboard" is 92% the size of a standard laptop keyboard.
Unfortunately that's about all we are able to discover from the T-Mobile.com listings though we've grabbed the press shots from the site in case the listings are taken down at some point. If these devices are in fact 4G capable they could very well be huge winners for T-Mobile this holiday season. As it stands however, all intel we've received thus far on both of these models leads us to believe they are not high-end models with high-end specs. The myTouch line is T-Mobile's signature line with handsets that are designed to appeal to the masses. With that in mind the myTouch 4G Slide is already available with 4G and one of the best cameras in the smartphone market. We don't envision this myTouch by LG device as besting the myTouch 4G Slide in any of those categories.
No matter what the finalized specs are for both of these devices we're interesting in T-Mobile's move away from HTC-only myTouch manufactured devices and look forward to seeing what else they can come up with.